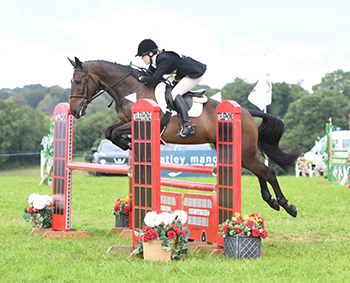 Charlotte - Petplan Equine Ambassador
Petplan Equine Ambassador, Charlotte Wadley, shares her highs and lows of owning and riding horses.
Another couple of summer months have passed with no eventing for Teddy and I, although we have made some big steps forward.
July started well with Oggie competing in another two unaffiliated one day events. We finished in 4th place at Solihull with a 27.8 dressage and double clear! I was over the moon with him; he was still quite tense but more rideable and showed huge improvement in the show jumping. He was very green in the cross country phase but listened well, kept travelling forward and jumped what was in-front of him which is all you can ask from a youngster!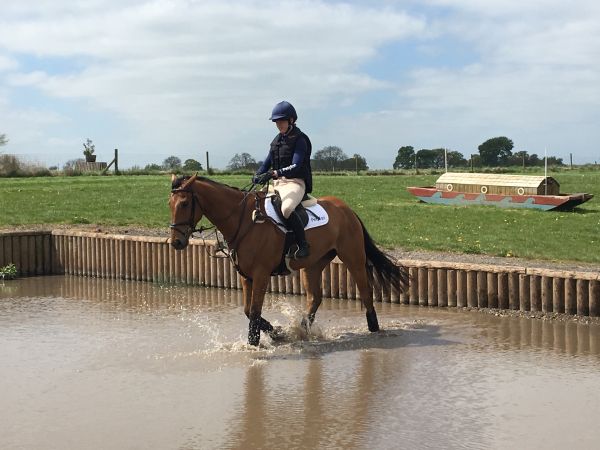 Charlotte riding Oggie through the water on a cross country course
A couple of weeks later we headed out to another event, I was really hoping for a positive day because I was conscious that Oggie was due a break, he has been working seriously hard! Once again he improved on his dressage with a mark of 27. The show jumping didn't go to plan with a couple of poles down, I was very pleased with how he jumped but disappointed with myself! After walking the cross country I felt it was a very big ask of Oggie, despite being an 80cm course most of the jumps were 90cm+ and some technical too, not what I expected! After our green run at Solihull I felt he lacked confidence and focus to tackle the course and really wanted to avoid over-facing him so decided to jump a mixture of the 70 and 80 jumps, the event organisers were very understanding! Oggie warmed up well and immediately felt more confident, we set off and he was foot perfect. We jumped the full 80 course and he gave me a really super ride!
Since then Oggie has been turned away, he is having a well deserved rest. I am really missing riding him but I feel even more now that he is full of potential and I want to give him plenty of time to develop mentally and physically.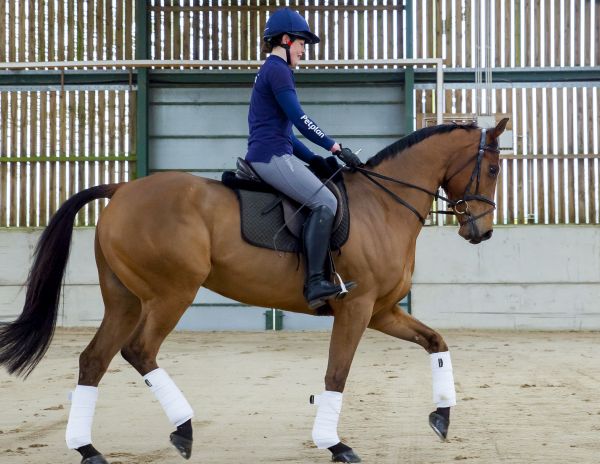 Charlotte will miss riding Oggie while he is having a well deserved rest
Teddy's back to work plan is coming along well, we are schooling properly again now, I had forgotten how much I love working with him! We are ready to start pole work and jumping but will hold off doing any fast work for now. His ligament is feeling good, I examine before and after I ride to ensure I detect any sensitivity immediately and so far so good! I have also purchased an ultrasound machine which along with ice boots and magnet therapy I will use to hopefully successfully manage his legs! With the season soon coming to an end we have no plans to event this year, I will put more pressure on Ted over the winter to test his soundness, keeping everything crossed we are back in action next year.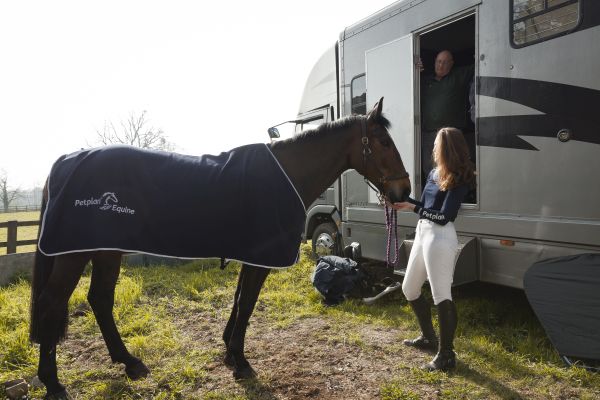 Charlotte is slowly bringing Ted back into work
I headed over to the Festival of British Eventing at Gatcombe Park a few weeks ago. There were a number of classes running including the Corinthian Cup which Ted and I should have been competing in! It was great to go and watch, I walked the course and studied the show jumping with expectation that we will be cantering around at Gatcombe again in the future!
I have been keeping Neeco ticking over but again it looks like a winter competition season is what I will be planning with him. He is such a sweet natured and laid back horse that I often forget that he is only seven, so although his owners and I are disappointed that he has had a few niggles this year some time out is not the end of the world for him. He is established at the lower levels, his lateral work is good and he really understands collection now so I know he will come back with that knowledge under his belt. The next step with him will be to train expression in his paces, improve his fitness and his stamina but all in good time.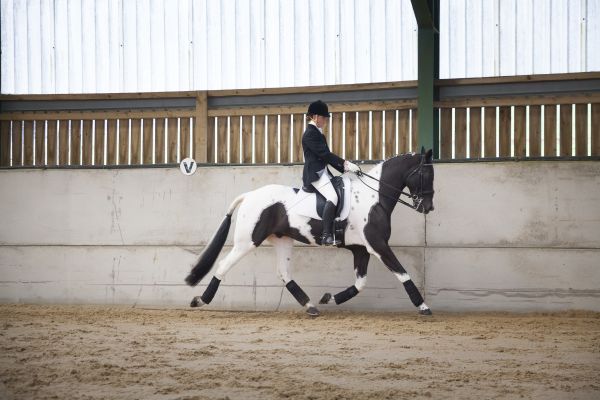 Neeco's dressage schooling is going well and Charlotte is planning his winter season
The team is back to the three boys with Maj having left us a couple of months ago. Unfortunately her soundness issues continued to cause problems.
Horses give us the biggest highs and the biggest lows, this year has been mainly the latter for me but I'm keeping my chin up!