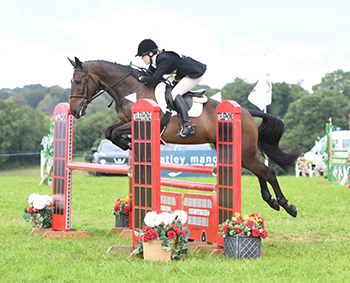 Charlotte - Petplan Equine Ambassador
Turning my equestrian dreams into a reality has not been without hindrance but when the going gets tough Petplan Equine helps me get things back on track. Success is not accident; it's about surrounding yourself with the right support and that includes the right horse insurance.
Since my last update things have continued to move forward with all of the horses although the incessant spring rain put hold on my eventing plans with Teddy.
In the meantime Ted has been ticking along well. All horses have their own specific needs and requirements in their training schedules and if it's one thing I've learnt through my years owning Teddy it's that less is often more. When I'm not heading towards an event with Ted I aim to simply keep him ticking along and keep his fitness at a good level, rather than working him hard constantly and putting more miles on his legs. When you have been faced with injuries and setbacks it makes you think differently about the correct and necessary workload for your horse and it's something we should all regularly assess. When Teddy was young and green preparation in the way of going out to lots of local shows for practice and exposure to competition environments for him was really important. Now he is much more established it's more about maintaining him and saving him for the main event. With that said, we have been out to do bits of show jumping over the past months and as the beginning of our season approaches we will go x-country schooling and to some combined training competitions. We have been away from eventing for such a long time now that some practice is definitely needed!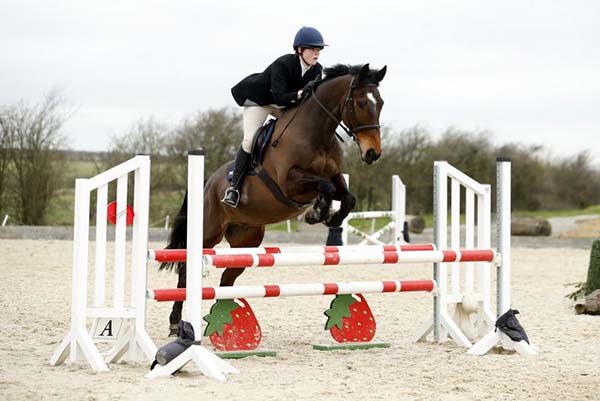 Charlotte and Teddy out show jumping
Neeco and Oggie are also keeping me busy and I'm very pleased to say that Oggie is now back in ridden work and is feeling and looking fantastic. The months of hard work with young Oggie are finally paying off, he is much stronger through his back and he has been doing some seriously smart flatwork which is very exciting! I have no plans to jump him in the near future or to event him this season. I plan to let him dictate when he's ready for a step up, he is such a character I'm sure he will let me know! My aim is to compete him British Dressage over the coming months and with a bit of luck we will qualify for some Petplan Equine Area Festivals. Next year will hopefully be his year to head back out eventing.
Neeco has been working hard and is schooling well. He was out of work for so long after his troubles last year that I wondered how he would take to being back in action but although he took a while to get back into the swing of things he hasn't forgot anything that I'd previously taught him. Unlike Ted and Oggie, Neeco has no thoroughbred in his breeding so again, I have to tweak his training schedule to suit him, he needs that bit longer to build fitness and stamina. Another six weeks and I hope we will be entering competitions with him!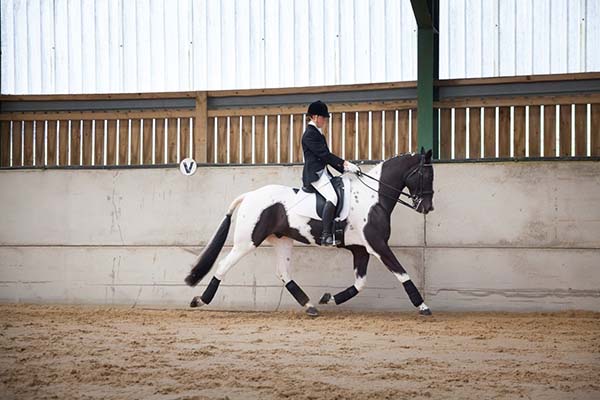 Charlotte hopes to get Neeco back out competing in the next six weeks
There is such an art to owning and competing horses, not only in the training and caring for them but in the organising and juggling of all of the unexpected things that change our plans along the way, from injuries to the weather! I am already on plan C so far and I'm hoping to not to move onto plan D!
I have also been busy thinking about my own fitness – am I competition ready!? The answer is likely no, with all of the bad luck I had last year (and bad weather!) I lost all enthusiasm and seemed to have no time or energy to do extra fitness work out of the saddle. Now that I am back having lessons on all 3 horses I can feel that my seat and balance in the saddle has suffered from the lack of practice and wish I had at least stuck with my pilates classes over the winter! My legs seem to be coping well when I'm galloping Ted and up out of my stirrups, there is muscle memory there somewhere! I am back doing pilates, running and lots and lots of no stirrups, which on a horse as bouncy as Ted is no mean feat!
Fingers crossed for some eventing results in my next update!