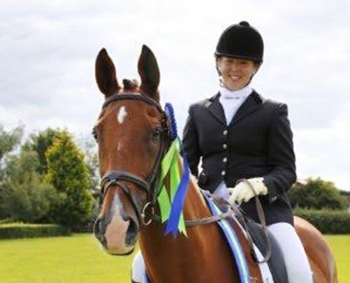 Laura - Petplan Equine Ambassador
I choose to be with Petplan Equine because I know they will be quick, efficient and understanding when I claim.
Laura Gordon is from West Sussex and competes in dressage and eventing. Laura believes it is a lifelong decision to look after another life and it is picking up on the 'wrong' and dealing with it effectively, to the best of your ability which creates a responsible horse owner.
Laura owns three horses, the first being Nelson (Condie Nelson), a 14.2hh Welsh Cob who is now leading an easier life at the age of 27 competing in low level dressage and eventing. Ransom (Bantry Parks Ransom) is a 16hh Thoroughbred cross who is now pursuing a career in dressage and Finley (Carramore Boy) is a 17hh Irish Thoroughbred ex racehorse who events.
Plans for 2019
Aim for Ransom's Intermediate 1 debut.
Qualify Ransom for the Petplan Equine Area Festivals at PSG or Intermediate 1 level, if he copes well at that level.
Aim for a confident season at BE Novice with Finley after his confidence blip last season.
Possibly aim for a 2* with Finley depending on how the season progresses – but with the main goal being to have fun with him!
Continue to event low-level with Nelson. Laura will also aim to qualify again in veteran showing and Arena Eventing Championships.
Ambassador updates 2018
Ambassador updates 2017