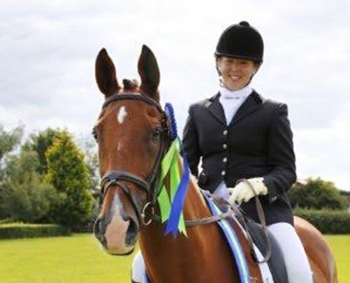 Laura - Petplan Equine Ambassador
I choose to be with Petplan Equine because I know they will be quick, efficient and understanding when I claim.
Laura Gordon is from West Sussex and competes in dressage and eventing. Laura believes it is a lifelong decision to look after another life and it is picking up on the 'wrong' and dealing with it effectively, to the best of your ability which creates a responsible horse owner.
Laura owns three horses, the first being Nelson (Condie Nelson), a 14.2hh Welsh Cob who is now leading an easier life at the age of 27 competing in low level dressage and eventing. Ransom (Bantry Parks Ransom) is a 16hh Thoroughbred cross who is now pursuing a career dressage and Finley (Carramore Boy) is a 17hh Irish Thoroughbred ex racehorse who events.
Plans for 2018
Attend low level dressage and jumping with Nelson and possibly attend some veteran show classes.
Develop Ransom at Prix St Georges level, with the aim to qualify for the Area Festivals 2018.
Compete Nelson in Intermediate II.
Work towards maintaining Finley's confidence and consistency at Novice Level and work towards 1* competition.
Ambassador updates 2018
Ambassador updates 2017