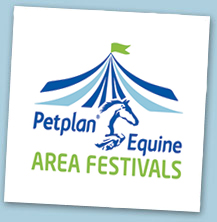 Petplan Equine Area Festivals
There are 24 Area Festivals and eight Area Festival Finals which lead to the Area Festival Championships; the series is the perfect opportunity for grassroots riders to experience a prestigious championship style dressage competition.
From the horse's mouth - Area Festival competitors
Nancy and Lindsey Plant - Starwalk

"The Petplan Equine Area Festivals are a good way to explore new venues and experience some very special events that really make you feel like you are competing in a championship; we loved it!"

Laura Gordon - Ransom

"The Petplan Equine Area Festivals are a good introduction to affiliated competition. The judges give positive criticism and they are the perfect event to have as a goal no matter what your level is so that you can achieve your potential."

Alix Henderson – Silverbarton

"The event was incredibly well run and everyone was so encouraging. Any rider who is looking for a new experience in 2017, qualifying for the Petplan Equine Area Festivals should be top of mind.."
Petplan Equine Ambassadors' Area Festivals experience
Keep up to date with the festival fever on the Petplan Equine Area Festivals Facebook page.