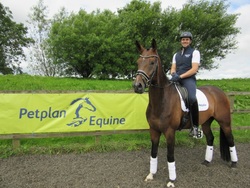 Perfect Your Performance with Petplan Equine
Petplan Equine is delighted to offer one lucky Petplan Equine Area Festivals rider the opportunity to win top-class training with international dressage rider Charlie Hutton in a series of three tailored masterclasses.
Whether you're just starting out in your Area Festivals journey or looking to progress to the next level, enter our competition now for your chance to win!
Focusing on key areas of dressage, this prize will support one lucky rider through their Petplan Equine Area Festivals journey. The lessons with Charlie Hutton will take place during 2019 at Talland Equestrian Centre, Cirencester.
Together, you will look at aspects of dressage such as your way of going, your strengths and weaknesses and test riding techniques. The winner will also get the opportunity to be photographed by British Dressage for a feature in their magazine
To be in with a chance of winning, you must be planning to compete in the Petplan Equine Area Festivals this year. Simply complete the entry form below and tell us why you should be considered for this amazing opportunity.
Entries close on 30/06/19. For full Terms and Conditions, click here