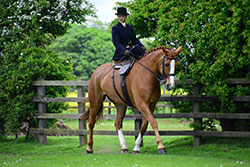 Petplan Equine
Sponsored Rider - Rachael
"I have always insured my horse with Petplan Equine and would not choose anyone else. They offer an excellent service, and have been brilliant with the claims I have had over the past 10 years."
(Photo: Emmpix Photography)
Rachael Jayne Barker
Rachael Jayne Barker is from Nottinghamshire and competes in affiliated showing and side saddle.
Tell us about the horses you own.
I currently own two horses and a cheeky pony. Sleet, is a 15 year old Irish Thoroughbred, who I can only describe as 'my soul mate'. He tries his heart out at everything we do, and is a complete gentleman but is also known for his quirkiness. He has competed in dressage, show jumping, eventing and side saddle at a national level. Following a diagnosis of arthritic hocks and kissing spine syndrome in 2015, he is now back in ridden work. Tristan is my cheeky loveable pony. Originally bought from the sales in a terrible state, he is now happy and healthy and standing at over 11hh, enjoying nothing more than playing in the field with the two horses, and rolling in mud. Tristan is now 2 years old, and competes in-hand in coloured showing. The last and newest horse to join me is Lord Gale. Bought in August 2015, he is a 16.3hh 9 year old gelding. As a race and point to point horse he was very successful, but following his retirement he lost condition, and picked up a few health issues. Now with me, he is being retrained to compete in eventing, ROR classes, and hopefully will be introduced to side saddle later in 2016.
What were your highlights from 2015 as a sponsored rider and what are your goals for 2016?
For me, one big highlight as a sponsored rider with Petplan Equine in 2015, was picking up the ride on Kingsclough Masquerade (Marcus). We have had many successes so far, with wins in many classes and championship titles, with an extremely near miss qualifying for HOYS.
In 2016, with the support of Petplan Equine, myself and Marcus are aiming to qualify for HOYS with a vengeance! The ladies side saddle class is our main goal with him as well as RIHS qualifiers. So they'll be plenty of early starts, late nights and cross county trips to make the qualifiers! With my own boys I aim to get Sleet back in work, competing at a low level, but mainly to be comfortable and healthy in 2016. Tristan will continue to work in-hand, in coloured and young stock classes, and Lord Gale will continue his education with the aim of introducing him to eventing, and then side saddle in the second half of the year. It would be great to get him to the side saddle nationals in August/September for a few novice classes.
Rachael's guide to side saddle
Rachael's 2015 updates
March - April May - June July - August September - October November - December
Rachael's 2016 updates
January - March April - June July - September October - December
Rachael's 2017 updates