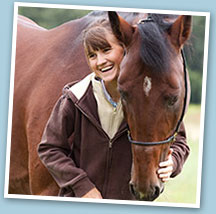 Petplan Equine
Sponsored Riders
At Petplan Equine we're always looking for ways to support the equestrian industry and we have selected a group of riders to sponsor. These riders are role models within the industry, people who go the extra mile to look after their horses wellbeing and are true ambassadors of responsible ownership. We are pleased to introduce the riders who have been selected to represent Petplan Equine as Sponsored Riders for 2015 and 2016.
Find out more

Amy Gilbert

"Eventing pushes us to the limit and Petplan Equine gives me the confidence to perform. At a great time of need, Petplan Equine was there for us, without them we would not be where we are today."

Find out more

Charlotte Edwards

"I would recommend Petplan Equine to everyone as I have multiple horses insured with them, and I have made several claims over the years, and never once had a problem. The team are friendly and understanding of situations, and are very easy to communicate with."

Find out more

Jack Stancombe

"I have always wanted to give my horses the best care, and with Petplan Equine I have the peace of mind that they will always come first."

Find out more

Juliette Edmonds

"It is reassuring to know that with Petplan Equine my horses are fully covered for illness, injuries and lameness until they are 25 years old, as my eldest is still eventing successfully at 19 years of age!"

Find out more

Lili Brooksby

"I would be happy to recommend Petplan Equine to anyone, they have dealt with all my claims over the years. My horses are irreplaceable to me, and I feel happy knowing I can give them the care as they need it and I am confident to also have my prized tack and trailer insured with Petplan Equine in case anything happens."

Find out more

Lorna Hogg

"'To Compete is to Win' is the motto of Endurance, knowing I have the cover, protection and expert advice of Petplan Equine behind me enables my back room team of crew, vet, farrier, coaches, physio and of course myself, to give 100% to my horse and my sport and lead us to success – Together we tackle the miles."

Find out more

Rachael Jayne Barker

"I have always insured my horse with Petplan Equine and would not choose anyone else. They offer an excellent service, and have been brilliant with the claims I have had over the past 10 years."