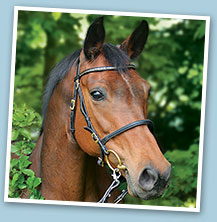 Press room
2011 press releases
Posted: 08/06/11
A great deal for your customers and rewards for you from Petplan Equine
Just like good first aid skills, the right equine insurance can help ensure a horse gets the right treatment at the right time by offering owners financial peace of mind. As the UK's specialist equine insurance provider, Stuart Geeves, Petplan Equine's Marketing Development Manager explains what they are doing for customers and how retailers can play their part to reap rewards in the process.
Horse owners know that even the healthiest horse can become ill or injured and that associated vet's fees can often run to thousands of pounds. Add to this the threat of third party liability, personal injury and horse and tack theft – it is easy to see why insurance has become an important aspect of equine management.
Adding value
In these tough economic times, consumers are increasingly looking for good value for money and horse insurance is no exception. It is vital that customers understand what they are buying and that they have the right cover for their needs. We have been providing specialist equine insurance for over 20 years, offering differing levels of cover to suit everyone from the leisure rider to the active competitor so that you only pay for the cover you need. Uniquely, we provide cover for full illness and injury upto the age of 25 providing the horse is insured before its 20th birthday, and have also introduced a rider only policy. In a step to further enhance value for money we are offering the first month's free to those who take out a new policy.
Rewards for Retailers
In recognition of the important role equestrian retailers play in the care of their customers' horses, Petplan Equine has launched the Petplan Retail Rewards scheme which rewards retailers for promoting Petplan and Petplan Equine policies to customers.
As part of the scheme, retailers are encouraged to display or handout leaflets that give their customers their first month's insurance free when they buy horse insurance or a rider plan policy. In addition, new policyholders will also receive a free horse and rider first aid kit if they take out a policy via this scheme before the 30th June 2011. This provides retail partners with a great way to add to their existing range of products and services while at the same time earn reward credits.
Reap the Rewards
Petplan Retail Reward Credits are awarded when customers take out full Petplan Equine policies and can be exchanged for Love2shop vouchers. These vouchers are accepted by over 85 leading high street names and in over 18,000 outlets nationwide, including Boots, Comet, House of Fraser, River Island, HMV, Homebase, JJB, WHSmith, Matalan and Iceland.
Retailers receive 200 credits for every horse insurance or rider policy sold, and a further 25 credits are earned every time a policy is renewed.
If you are interested in being part of the scheme, you can register free of charge at . You will be given a unique number, and can order free promotional material to display in your outlet. All you need to do is add your unique number to each leaflet as this will help Petplan identify sales that come from your business.
If you're interested in finding out more, contact us on 0800 197 6270.
For more information please contact the Petplan press office on:
Petplan Equine is the UK's leading horse insurance provider offering a wide variety of flexible horse insurance and rider insurance policies which cater for all levels of experience.
Established more than 20 years ago, Petplan Equine is part of Allianz Insurance, one of the largest general insurers in the world.
For more information about a Petplan Equine horse insurance policy, please visit:
petplanequine.co.uk/insurance/quote.asp
Note to editors:
The Petplan Equine Census was conducted in spring 2010. An online questionnaire was filled in by over 1700 UK horse owners.
*ONS 2007
Petplan Equine was founded in 1988
It is part of Allianz Animal Health, the largest provider of animal health insurance in the world and part of Allianz – one of the largest general insurers in the UK
In addition to horse and pony insurance options, Petplan Equine provides dedicated products for veteran horses and rider only insurance cover
It is the sister brand of Petplan, the largest provider of small animal insurance in the UK
Petplan Equine believes in supporting the equine community and provides more financial support to equestrian sports and activities than any equine insurance provider in the UK
The Pet Plan Charitable Trust was founded in 1994 to raise much needed funds for animal welfare and veterinary projects. Money is raised by Petplan and Petplan Equine customers giving an optional £1.50 to the Trust when they take out or renew their policy. To date, almost £5 million has been awarded by the Trust
Petplan and Petplan Equine are specialist insurers. As such, the company employs more horse riders and owners than any other and more former veterinary practice staff than any other to ensure the provision of specialist knowledge
Petplan Equine is the only insurer to offer illness and accident cover for older horses, up to the age of 25 as long as the policy is taken before your horse reaches the age of 20.