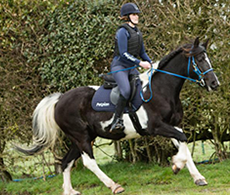 Guide to endurance riding
Want to try something different with your horse? Find out everything you need to know about the exhilarating sport of endurance riding, including what's involved and how to get started.
What is endurance riding?
Endurance riding is a sport that can be enjoyed at any level, and is a great way of getting your horse fit, with a view to gradually stretching its capabilities – and the same applies to the rider! Even on the shortest rides, there is always scope to strive for improvement.
Endurance riding is adventurous and encourages you to explore the countryside. It offers challenges such as navigating tricky terrain in sometimes difficult conditions, and troubleshooting to improve both your own and your horse's performance.
Types of endurance riding
There are different types of endurance rides you can take part in, depending on the age of your horse and your experience as a combination:
Pleasure Rides are run by Endurance GB but are non-competitive and suitable for riders and horses of all levels – there are no qualification criteria. Where pleasure rides are run alongside competitive classes, there is a simple vetting involving a trot-up before you start and after you finish.
Graded Endurance Rides (GERs) begin at novice level and start at 30km (18.6 miles). In a graded ride, the challenge is to keep pace within set parameters while taking account of the varying terrain and passing veterinary checks at the beginning and end. Once you've completed and passed the final vet checks, your grade will be calculated, based on heart rate and speed. Novice-level competitors should complete the ride between 8-15kmph (5–9mph).
Competitive Endurance Rides (CERs) are for advanced-level horses and riders, and start at 80km (50 miles), but can be up to 160km (99.5 miles). Everyone starts together and the first horse to cross the finish line is the winner, provided that they have passed the final vetting. The minimum speed is 10kmph (6mph) and there is no maximum speed.
FEI Rides are international level for advanced combinations and are run under the rules of the International Federation for Equestrian Sports (FEI).
On the day
You'll be given a vetting time in advance – think of this as your start time because it's when you need to be ready, have collected your bib, map and emergency contact labels that you attach to you and your horse.
Vettings are much simpler than most riders think. The vet will monitor your horse's heart rate and check them over. You'll then have to trot your horse in-hand to a cone, walk around the cone and trot back. Once you've been given the all-clear, you can tack up and present yourself at the start.
You must cross the start and finish lines mounted, but you can get off during the route. The routes are marked with spray paint on the ground or ribbons tied in trees. They will take you to the various checkpoints, which will also be indicated on your map. Using the combination of your map, the markers and sometimes a 'talkround' (extra printed information) will get you round. Map-reading skills aren't essential as there is much more assistance in endurance.
Once you cross the finish line, you have 30 minutes to present your horse for a final vet check. Your horse's heart rate needs to be 64bpm or below (within the 30 minutes) to pass before you are officially completed.
Petplan Equine veterinary expert Juliette Edmonds says: 'It's a good idea to check your horse's heart rate regularly so that you know what is normal. It should return to normal fairly quickly after exercise – this is a good measure of fitness.'
Watch our video to find out how you can check your horse's heart rate.
Who can take part in endurance riding?
Anyone with a horse over four years old can take part in a pleasure ride. When the horse is five, you can enter a GER and when it is seven, you can enter a CER.
Depending on the length of the ride, endurance is either a Petplan Equine Group 2 activity or a Group 5 activity – check whether you're covered here.
Is my horse ready for endurance riding?
It's important to make sure you and your horse are fit enough to ride. If you regularly hack for two to three hours at a fairly active pace, you should be in good stead to take part in a pleasure ride. Doing this will give you a good idea of where you need to improve before you compete.
How to get involved
Endurance riding in Britain is governed by Endurance GB (EGB). If you want to try a pleasure ride, you only need to sign up for an EGB supporter membership, which is free.
Associate memberships are also available (£45 for a full year for an adult) and these allow you to take part in pleasure rides at a membership rate, so they are a good option if you want to get involved without the competitive element.
If you want to try competitive endurance, you can opt for a 'Try Before You Buy' membership that allows you to enter two rides of up to 40km on a day ticket. If you decide to become a full member of EGB, you will be assigned to your local group that runs events for your area – there are 24 in total across England, Scotland and Wales.
Endurance testimonials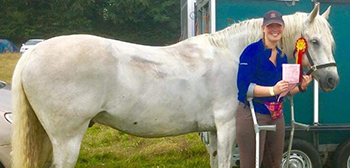 Petplan Equine customer and para endurance rider Brie Stell
Petplan Equine customer and para endurance rider Brie Stell says: 'I discovered endurance after being told I had to give up jumping due to a constant neck injury as part of my Ehlers-Danlos Syndrome. I spent a year hacking quietly, but both my horse and I got very depressed. My horse totally lost his spark and we barely made it around the block for a ride because neither of us felt it any more. Then, in 2018, my friend convinced me to join her for the Golden Horseshoe Ride. The event brought back his spark and love for life. I got back my competitive streak and gained so much more. I was welcomed by all the riders, wished luck, told to enjoy my ride and congratulated at every turn by fellow competitors.
'Now, in 2022, I am about to complete my first 40km. We won the para award at the regionals in 2021, gained multiple grade 1 results and won our class at Cern in 2021. Recently, we came third at Wadebridge in our class as our first ride of 2022 and gained another grade 1. Both my horse and I have found our muse and enjoy it more than we ever did eventing.'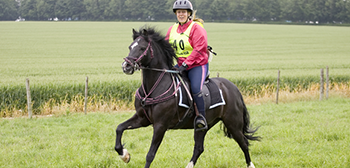 Petplan Equine customer and endurance rider Lisa Davies
Petplan Equine customer Lisa Davies says: 'I did endurance for some 20 years. I fell into it by accident as I was trying to get a young horse fit for eventing and a good friend persuaded me to join her for a ride. My mare, Pollyanna, took to it like a duck to water and within a handful of rides was placed in the Bronze national final. Endurance takes you to fantastic parts of the country and allows you to ride over land that is normally inaccessible to riders.
'Because every rider has had to work really hard to get their horse fit for competition, there is great camaraderie and everybody helps each other as they know exactly how much work has gone in.'
'I was very lucky to have the horse of a lifetime who took me onto the British team and abroad to compete. Endurance is truly a sport for all as all breeds can compete successfully at all levels.'
Whether you are giving endurance a go for the first time, or are an experienced endurance rider, we'd love to hear how you get on – let us know!
Do you think we're doing a good job? If you do, please vote for us in this year's Insurance Choice Awards. Plus, you'll also be entered into a prize draw to win £1,000 (Ts&Cs apply)