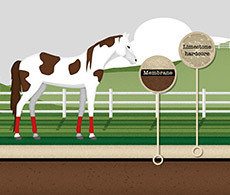 Keep Horses Healthy In Mud
These cold, wet months can be among the most challenging for horse owners. Sticky, sludgy mud can suck the joy out of trips to the yard and at worst, cause health issues for some horses. The good news is that with a little preparation and some practical advice from Petplan Equine veterinary expert Gil Riley, you can protect your horse from the muddiest of winters.
Limit exposure to mud
'Horses did not evolve to cope with mud,' says Gil, 'As wild herds roaming the plains, they would habitually move to drier, grassed areas to escape wet conditions underfoot. As an outdoor life is, on balance, a healthier option, let your horse spend time in the field during the winter, but take measures to limit his exposure to mud and protect his lower legs.'
Field gateways see the highest amount of equine traffic and can become mud hot spots. 'The soil becomes compressed, inhibiting drainage, so there's potential for the gateway to turn into a mud bath,' explains Gil. 'To improve footing, dig the whole area out before laying down a membrane and a thick layer of limestone hardcore on top of it. Once rolled, this will protect your horses' feet from damage.'
'Effective drainage will limit mud production,' says Gil, who advises keeping drains and trenches clear and diverting water run-off from roofs. 'Picking up droppings can also reduce infection risk and improve pasture quality.'
For a mid-season emergency, move the gateway to a higher, dryer area, or create small, moveable paddocks with temporary fencing.
Leg savers
Liquid mud underfoot can leave lower legs at risk from mud fever, a skin condition caused by bacteria that live in the soil.
'When legs are constantly wet, the oily layer of the skin that offers protection against bacterial infection becomes vulnerable,' explains Gil. 'Germs can then penetrate the skin, causing soreness and inflammation. Cleaning muddy legs with tepid water is best, as a dry brush with stiff bristles could scratch the skin and allow bacterial access. Once they're clean, towel the legs dry.
Gil continues: 'Applying leg wraps or a coating of waterproofing oil before your horse goes out can help keep infections at bay. Legs without heavy feather can be easier to keep clean, so consider clipping or trimming the lower limbs.'
A quick daily leg check should help nip any infections in the bud. 'If mud fever does take hold, bathe the skin gently in warm, dilute disinfectant before patting it dry and apply a bacterial cream supplied by your vet,' says Gil, who advises wearing gloves to prevent infection spreading and stresses that scabs should not be picked. 'In more severe cases, systemic antibiotics may be needed,' adds Gil. This should always be prescribed under the advice of your vet.
Healthy hooves
Standing in a quagmire can also soften hooves, allowing entry to mud-borne bacteria.
'The 'white line' - the junction between the hoof wall and the horn of the sole - is a weak spot,' says Gil, explaining that this narrow band is softer than the tough horn. 'Once softened, the white line is more vulnerable to penetration by bacteria. This can result in pus in the foot, a painful condition that can leave a horse unable to bear weight on that leg. The problem is usually straightforward to resolve by a farrier, with diligent paring of the hoof sole to release the pus.'
Softened hooves are also more likely to shed shoes. 'A suction effect in deeper mud, or sliding to an abrupt halt, can pull a shoe clean off,' says Gil. 'Partial loss, where the shoe shifts position on the hoof, can be more problematic as your horse can then step on one of the nails and get a puncture wound. Regular visits from a qualified farrier will help keep hooves in trim and give shoes maximum staying power.'
Slippery ground
While rain need not stop play, excess mud underfoot can prove tricky when you're hacking in winter. 'Loss of footing is a big issue at this time of year,' explains Gil. 'Injury to joint ligaments, particularly the collateral ligaments of the hock, is a possibility, along with tendon strains.'
Gil's advice is to take it steady on boggy ground, skirting deep patches or poached ground where possible. Proceed with caution, too, when below-zero temperatures cause heavily rutted ground to freeze.
'The soles of a horse's feet can become bruised on hard, uneven surfaces,' explains Gil. 'Ligament strain of the coffin joint within the hoof is another risk, especially if the feet are already poorly balanced.'
Staying supple
Winter-stressed skin is susceptible to rubbing, which is all the more reason to keep bridles and girths clean and supple, and to brush mud from sensitive areas before tacking up. Wash numnahs and saddlecloths regularly to prevent a build-up of scurf, and keep the linings of protective boots free of any grit or grainy mud. Allow soaked saddlery to dry naturally before cleaning it thoroughly and treating the leather with a conditioning product.
Top winter picks

Pig oil is mineral-based oil and helps create a water-resistant barrier between your horse's skin and the mud. Many products combine this with Sulphur to form a mud-busting solution that conditions the skin and offers added protection in challenging conditions. Try Lincoln Pig Oil & Sulphur, £7.99 / litre.

Nettex Seven Day Mud Away acts as a barrier cream and comes in a handy spray bottle for mess-free application. The pharmaceutical-grade oil formula repels water and stops mud from sticking to the horse's coat for up to a week, making easy work of winter washing and grooming. Buy this for £6.50 / 250ml.

Bacteria thrive in moist, warm conditions, so keep legs clean, dry and cool with breathable turnout wraps. Woof Wear's Mud Fever Turnout Boots, £60 per pair, create a waterproof, protective barrier from below the knee and feature abrasion-resistant Kevlar over the vulnerable heel bulbs.