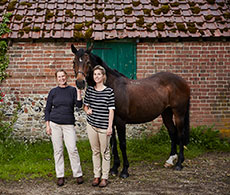 Could you share your horse?
Sharing can make sense if you're short on time and money, but how can you ensure it's a good solution for both you and your horse? Two riders tell us about their real-life experiences and give their top tips on sharing etiquette.
Why share?
Sharing might seem like an attractive way to slash your livery bills in half, but it could also offer you an opportunity to make the most of the time you get to spend with your horse. Rather than rushing to ride at dawn or dusk every day, sharing might mean you can dedicate just a few days a week to more quality time in the saddle. And finding a sharer doesn't have to be daunting; it can be as easy as asking friends if they know anyone suitable, posting a request on social media or an online Equine forum, or taking out an advert.
But how can you ensure it really is the best of both worlds? We've asked two riders to explain what they've learned from sharing.
Charlotte's story: 'Sharing means putting your horse's wellbeing first'
Charlotte Gibbs, Petplan Equine's senior marketing executive, decided to share her 18-year-old Thoroughbred cross Welsh eventer, Rupert, after he suffered an injury.
'Rupert broke his pedal bone and, while he returned to work sound, I decided that keeping him well was the most important thing – and I wanted someone whose gentler riding style could balance out my slightly more strenuous sessions with him,' Charlotte says. 'I put a post on Facebook asking if anyone wanted to ride him part-time and found a friend of a friend that way.
'I made sure that I was honest throughout, and explained what Rupert could do and what I would expect. To me, the finances weren't the most important part; it was more about doing the right thing for Rupert, and so I said from the beginning that I'd handle any vet's fees. I also made it clear that because of his previous injury I didn't want him going on hard ground. I wanted someone who wouldn't be too hard on him and would treat him with kindness and love.
'I then watched how the sharer rode Rupert and her attitude towards him. We also made sure to discuss horse-care, expected duties and we established when we would be able to ride.
'Overall, my experience of sharing has been positive: it's meant that Rupert gets the kind of exercise he needs – and I get a few days off going to the yard, too!'
Charlotte's tips:
To ensure a potential sharer has a good understanding of your horse, approach sharing in the same way you would if you were selling him. Explain your horse's temperament, give them details about the way in which he's been ridden and provide them with a run-down of his medical history.
Someone else will always do things slightly differently to you, whether it's putting a brush back in the wrong place or forgetting to wash the bit. And always remember to take a step back and judge whether you're being picky or if it's an issue that's worth further discussion.
Take your horse's age and temperament into account. I was confident about sharing Rupert as he was mature, but I might have had reservations about a younger horse, as they need consistency.
Sarah's story: 'Use sharing as a way to make the most of your time together'
Sarah Jenkins, a content director for Horse & Hound magazine, decided to find a sharer for her Irish Draught cross Thoroughbred, Skippy. 'I have two horses, and was struggling to find the time to do both of them justice,' Sarah says, 'and I was exhausted from getting up at 6am to muck out and ride two horses before work. Plus, it was becoming more and more difficult to afford the costs of keeping both.'
While time and money restrictions meant Sarah couldn't make the most of Skippy's love of competing, she found a sharer who could. 'I still enjoy riding her on the flat and doing fitness work,' she says, 'but my sharer has lessons and goes to shows.' The pair split all bills except insurance, which is paid by Sarah. They each ride three days a week, although Sarah says, 'it's not a rigid arrangement – if someone's having a manic week, the other will keep Skippy fit.' 'Sharing has really been the best of both worlds for me. I still get to spend time with my horse, but it's no longer a chore. And I watch her enjoying showjumping ridden by someone who thinks similarly to me in terms of putting the horse's welfare first.'
Sarah's tips:
Have a rota – even if it's just one you discuss weekly. That way you can ensure your horse has appropriate, varied exercise, and everyone knows when they can compete. Plus, it means no element of care gets missed because someone thinks the other person is doing it.
Have an agreement: both parties must understand what contribution they are making, including financially, plus what days they are riding and caring for the horse. Who books the farrier? What happens if the horse is lame? Agreement templates can be found online and you should also consider seeking legal advice.
Find someone you trust. It's important your sharer is someone you feel you could have sensible, constructive conversations with – even on difficult topics.
Sharing and your insurance
'If you're thinking of sharing your horse, you can rest assured that it won't cause any issues with your Petplan Equine policy,' says insurance specialist Claire Thompson, who has been working for Petplan Equine as an underwriter for 12 years.
'You can choose to have the policy in your own name or that of the sharer,' she explains, 'but we'll just need the policyholder to let us know that the horse is being shared. The policy will continue to be in force for both people sharing the horse (the owner and sharer), and either of you can pay the premium – as long as you're both in agreement as to whose responsibility this is.'