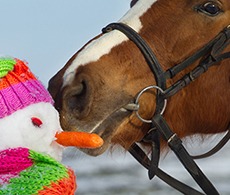 7 Christmas gift ideas for your horse
When you've got lots of friends and family to buy for, your horse's present might not be at the forefront of your mind. Here are a few ideas to get you thinking...
Christmas is just around the corner. So, if you haven't already been thinking about what to gift your horse, then now is the perfect time to start. If you've already got something in mind, there's no harm in adding just one more thing to the basket for them – why change the habit of a lifetime? So, grab yourself a cuppa and take a look at our favourite horsey gift ideas – we've got something for everyone. And not forgetting your horse's four-legged siblings, we have plenty of ideas for cats, dogs and rabbits, too.
Top 7 Christmas presents for your horse
1. A tasty treat
We all love an edible gift, and there's such a variety to choose from. You can find horse-friendly advent calendars, festive edition salt licks and an enormous array of mouth-watering treats to suit all types of diets. If you've got a good-doer who needs to stick to his diet over the festive season, there are plenty of low-sugar options, too, and you can spread these out over the holidays.
2. Get crafty
If you enjoy exercising your creative side, making your own hanging treat is a great way to entertain the children as well as their pony or your horse. Use a skewer to make a hole in some carrots, parsnips and chunks of swede. Thread some baler twine through each piece of vegetable as if you were creating a kebab. Tie a knot at the bottom and hang it from a beam in his stable on Christmas morning. You could always leave one out for Rudolph and his friends on Christmas Eve, too.
3. Something to share
A present your horse can share with you is probably the best sort – are we right? This is the perfect opportunity to get yourself something really rather nice and justify it by saying "but Charlie neeeeeds it!". Whether it's the hay steamer you've had your eye on since your family somehow missed the hints last year, a smart new dressage saddle or a new blingy browband, your horse is sure to be (almost) as excited as you!
4. Matchy-matchy
If you've got a horse who loves to look good, why not treat him to a new matching set? There are colours of saddle pads, ear bonnets and bandages for every coat tone and personality type, and you can never, ever have enough sets. You could even treat yourself to a matching top or pair of riding leggings too — it's all in the Christmas spirit, after all.
5. Cover the essentials
Christmas is a good time to buy something that your horse really needs. Whether it's a new rug, a smart headcollar to replace his 10-year-old tatty one, or a horse and rider first aid kit, you can kill two birds with one stone and call it a present.
6. Festive fun
In preparation for next year's Christmas card, get your horse some festive accessories. You can get antlers and Santa hats designed especially for horses and they're fun to wear out hacking over the Christmas holidays, too. Even your non-horsey friends who normally scroll straight past your pony spam on Facebook will enjoy looking at these cute pictures… or the outtakes!
7. Get personal
Make your horse the envy of his stablemates by treating him to a new stable nameplate, complete with a portrait of his handsome self, of course. There are plenty of designs to choose from, but if you're feeling thrifty you could even try making your own.
Let's wrap this up!
Whether you're looking to go all out this year, or keep things within a tighter budget, there's always a way to harness your Christmas spirit and give your horse a gift to remind him or her how much you love them. Christmas is an ideal opportunity to spend a little extra time with your horse, too. Check out some of these time-saving tips to help you eek out every spare minute.
On a final note, we've heard some owners receive presents from their horses. If that doesn't happen in your household, maybe this year you could start a new tradition?
Has your horse ever received a particularly special Christmas present or do they have something specific on their list? Share your ideas and festive photos with us on Facebook!