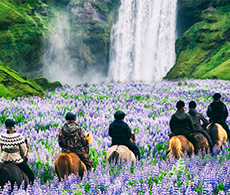 8 fun things to do this spring
Now the worst of the weather is finally behind us, spring is the perfect time to start enjoying quality time with your horse. From riding on the beach to taking your horse on a riding holiday, we offer up eight fun things to do with your horse this spring.
After a long winter battling the mud, rain and dark days, spring is finally here, and now is the time to plan lots of fun things to do with your horse. Warm, sunny days and plenty of daylight hours offer the perfect opportunity to get out and about and enjoy time in the saddle, so what exciting things could you get up to?
We've come up with the ultimate fun to-do list to ensure you have the best spring yet.
1. Go on a fun ride
Saddle up and enjoy a fun-filled ride across countryside that you wouldn't otherwise have access to. From stunning country estates to purpose-built farm rides with optional fences, there are a variety of fun rides to choose from up and down the country. Fun rides are a great way to get out and about with your horse, while enjoying quality time in the saddle and taking in new surroundings. Just make sure you're both fit enough as they are usually around 8 to 10 miles long, although some also offer shorter options.
2. Join a riding club
A great way to make new friends with like-minded people and get involved with fun, local activities, riding clubs offer a host of camps, training sessions, social meet-ups and friendly support. You'll have the opportunity to take part in team events while developing your riding, and there's usually a monthly clinic or competition to aim for. What's not to like?
3. Get snappy
Capture precious moments with your horse by booking a photoshoot. Pick the perfect backdrop, decide on yours and your horse's outfits, and pose for the camera. If you don't want to spend a fortune on a professional photographer, simply rope in some horsey friends to take the photos for you. Afterwards, you could create a special collage of your favourite snaps.
4. Try something different
It can be easy to fall into a trap of doing the same thing with your horse, so why not take advantage of the longer days and better weather to try something new together? It could be checking out a new hacking destination, going to a new competition venue or trying a new discipline. Your horse will probably benefit from the change as much as you.
5. Go on a riding holiday
If the mere thought of leaving your horse for a week to go on holiday fills you with dread, why not take them along with you? There are plenty of UK destinations, be it a horse-friendly B&B or equestrian centre with accommodation that accepts horses, too, and you can explore new places and enjoy some downtime together. If you fancy a more educational vacation, check out training centres that will offer lessons as well as holiday accommodation.
6. Visit the beach
Is there anything more exhilarating than galloping through the surf with the wind in your hair and the rhythmical sound of hooves beneath you? A trip to the beach is great fun for both you and your horse. While some beaches are closed to horses during the summer season, others are horse-friendly, so always check before you set off. It's also a good idea to find out the tide times so you know when's best to visit. Also, be aware of any patches of soft sand or mud that could be dangerous, so you know to avoid them.
Some horse-friendly beaches include:
Formby Beach, Lancashire
Holy Island, Northumberland
Redcar Beach, Yorkshire
Mablethorpe, Lincolnshire
Red Wharf Bay, Wales
Camber Sands, East Sussex
Holkham Bay, Norfolk
Brean Beach, Somerset
7. Attend a summer riding camp
Although you might think that camps are only for Pony Club kids, think again. Adult riding camps are becoming increasingly popular, with many choosing to return year after year. Simply pack you and your horse off for two or three nights and enjoy clinics, demos and lessons with like-minded people. Camps are a great place to develop your riding and improve your confidence in the saddle while having lots of fun, as well as spend time bonding with your horse while making new friends. With barbecues and music in the evening, it makes for an all-round pleasurable retreat.
8. Go on a picnic ride
Pack a tasty lunch, saddle up and head to your favourite hacking spot to sit and enjoy a picnic with your horse. You could invite friends to join you, or simply spend quality time with just you and your horse. Find the perfect location with the best views, lay out a blanket and set out your picnic. Take your horse's head collar so you can safely untack them and allow them to pick at the grass while you enjoy your picnic.
Is there something you love doing with your horse in the spring? If so, head to our Facebook page and let us know!