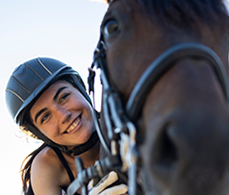 6 of the best equestrian podcasts
More popular than ever, equestrian podcasts can be a great source of information, advice and entertainment. But with so many to choose from, it can be hard to know which to listen to first. Discover some of our favourite podcasts from a range of disciplines that you won't want to miss.
Whether you're driving to an event or poo-picking your horse's paddock, podcasts are audio entertainment that can be easily fit into a busy equestrian life. They're a great way to learn something new at the same time as ticking something else off your to-do list. No matter what equestrian theme you're interested in, you'll find a podcast to suit.
Winner of the Digital Women's Podcast of the Year for 2021, Rhea Freeman, told Petplan: 'I listen to podcasts to help educate or entertain. I love listening when I'm walking the dog, doing jobs outside or on long car journeys.'
She also mentions that shows like her own Small & Supercharged Podcast, which is aimed at small business owners in the equestrian and country sector, "can present a different view on things and inspire listeners to try new things. I also love the delivery method as it feels like the person at the other end is speaking to me, or that I'm in the room when people I'm really interested in hearing from are chatting."
We've rounded up our favourite six equestrian podcasts to get you started...
1. The Willing Equine
Why we love it:
Adele Shaw's The Willing Equine podcast focuses on how to use science-based training to improve the bond and relationship between you and your horse. Adele offers practical advice on how to cope with a wide range of situations, from introducing a new horse to your herd or preparing a young horse for their first show season. She also interviews a range of equine experts to discuss how to successfully integrate positive reinforcement into your training.
Where to find it:
2. De-complicating Dressage
Why we love it:
International dressage rider Jessica Gale helps to make your dressage training simpler. Jessica offers a range of advice on all kinds of topics, from understanding more about specific dressage terminology to troubleshooting movements or analysing your test results. These bite-sized episodes are always under 30 minutes long, so you can learn something new in less time than it takes to clean your tack.
Where to find it:
3. EquiRatings Jumping Podcast
Why we love it:
Stay up to date with the latest insights, facts and statistics from the world of showjumping. EquiRatings is well known for its data-driven approach to equestrian sports and this podcast is no exception. Host Sam Watson offers weekly updates including event previews and reviews, up-and-coming horses to watch out for, plus interviews with showjumpers and equestrian experts. For eventing fans, the EquiRatings Eventing Podcast is also well worth a listen.
Where to find it:
4. Expert interviews: The Olivia Towers Podcast
Why we love it:
These relaxed and insightful podcasts will make you feel like you're catching up over a cup of tea in the tack room. Now into its fourth season, Olivia interviews a range of well-known equestrians including Henry Boswell, Alan Davies and Amy Tilston. In addition to expert interviews, Olivia also offers advice on how to build a resilient mindset, alongside episodes focusing on practical advice on all aspects of riding and equine care.
Where to find it:
5. Eventing: The EquiRatings Eventing Podcast
Why we love it:
Another stellar offering from the EquiRatings team, this popular podcast is hosted by Nicole Brown. The show includes episodes from British Eventing, interviews from eventers including Pippa Funnell and Andrew Nicholson, plus previews and behind-the-scenes information from all the best events including Badminton and Kentucky.
Where to find it:
6. For a bit of fun: Buck Off Banter
Why we love it:
This light-hearted horse podcast, hosted by Katie and Christa, will make those boring tasks like mucking out go by in a flash. Released every other Friday, these episodes cover a huge range of topics, from shoutouts to horsey heroes, discussions about why we subject ourselves to the stress of showing, and an honest look at trying to balance horsey commitments with the rest of our lives. Just be prepared for a bit of swearing at the same time!
Where to find it:
Do you think we're doing a good job? If you do, please vote for us in this year's Insurance Choice Awards. Plus, you'll also be entered into a prize draw to win £1,000 (Ts&Cs apply)