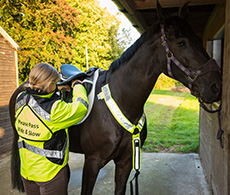 Hi-viz horse riding equipment review
Two Petplan Equine Ambassadors put hi-viz products to the test to help you on your way to safer riding.
Visibly safe
With the cold weather and shorter days really setting in, we know that visibility is even more of a priority for you than usual. And it's more important than ever: in the last five years, the British Horse Society has received over 2,000 reports of road accidents involving horses – so ensuring that drivers can clearly see you when riding out, could make all the difference. With that in mind, two of our Petplan Equine Ambassadors set out to find the right equipment for keeping you and your horse safe and visible while out on the road.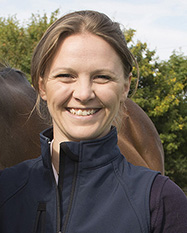 Rachael Jayne Barker
Equine sports practitioner and Saddle Company fitter Rachael competes in showing, dressage, eventing and sidesaddle. She also hacks her older horse and long-lines her youngster out on the roads two or three times a week, so being safe and seen by other road users is very important. 'I'm a big hi-viz advocate, and my horse and I always wear a variety of gear when hacking out,' she says.
'I've been a Petplan Equine customer for over 10 years and love being a Petplan Equine Ambassador. I care passionately about equine welfare and soundness, so Petplan Equine and I share the same values. They've also given me some fantastic opportunities, such as a biomechanics session with Russell Guire and a lesson with Lucinda Green.'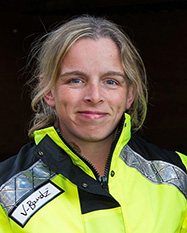 Juliette Edmonds
Juliette works full-time as an equine vet and owns two horses that she keeps fit for eventing through a training regime that involves regular hacking two to four times a week. 'I use hi-viz whenever I go hacking – it's vital that I give drivers a chance to see me and my horses in plenty of time,' Juliette says.
And how has she found being a Petplan Equine Ambassador? 'Being an Ambassador has inspired me to get out and compete with a feeling of support and encouragement,' she explains. 'It's also given me some amazing opportunities, including cross-country training with Lucinda Green and the chance to help with several articles in national magazines.'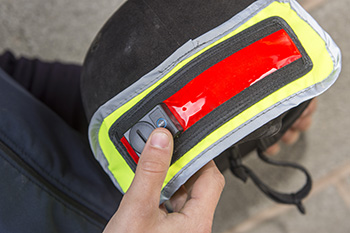 Product: Harry Hall Hi-Viz Hat Band (Recommended retail price: £24)
Special features:
Front and back reflective panels and a back-facing flashing light
Reviewed by:
Rachael
'The hat band was very easy to fit and use, it simply slips over your hat and, once it was on, I just left it there. It didn't move at all once in place – it was very secure.'
'The button for the light is slightly raised, so if you're turning it on once out riding, or if you already have your hat on, it's easy to feel where it is, even with gloves on.'
'The roads in my area can get very busy, so I especially liked that the front section of the band has a reflective panel to make us more visible to drivers, while the flashing light on the back made it great for riding early in the morning or late in the day as road users could see us from quite far away.'
Product: Equisafety Mercury Hi-Vis Waterproof Reflective Horse Rug (RRP: £70)
Special features:
Lightweight and waterproof, with Equisafety's vapour technology to give maximum breathability. The fluorescent fabric also offers high visibility during daylight hours and is very bright when lit up in the dark
Reviewed by:
Rachael
'I found that the rug was initially a bit tricky to put on. The wraparound sections that run under the saddle flaps have slots to pass the girth straps through, so you have to put your saddle on and then the sheet before girthing up separately. But once in place, and all the back leg straps are secure, there were no more adjustments required.'
'The sheet didn't move at all. My horse and I mainly walk on the roads, but to really put the product to the test we ventured on to the bridle path and had a trot and canter. It stayed in place without slipping sideways or back, which is something I've found is quite common with other sheets.'
'The rug also added a lot of visibility, no matter the time of day. The huge reflective panels on the rear and the bright pink colour were both very obvious to road users. In lesser light the reflective panels were great for reflecting headlights or streetlights and added a huge amount of visibility in dusky conditions.'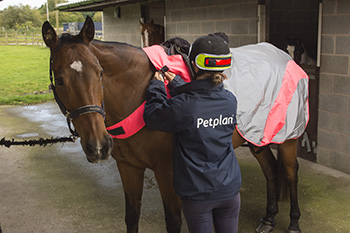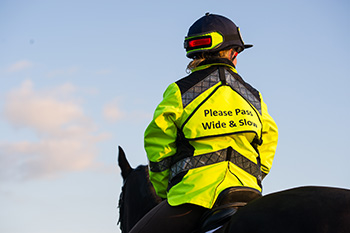 Product: V-Bandz Four Seasons Waterproof Breathable Coat (RRP: £90)
Special features:
A removable fleece lining for summer or winter riding, and deep armholes to take an extra fleece underneath if needed. Plus, a security zip pocket for your phone and optional removable warning triangle ('Please pass wide and slow') on the back
Reviewed by:
Juliette
'This is a very comfortable, lightweight, breathable and waterproof jacket. It has an easy-to-remove liner to convert it from a winter to summer jacket, making it ideal for all seasons.'
'I also found it an extremely comfortable fit. There's a rear zip to allow space over the saddle when you're riding, which is very useful, and it's longer at the back than the front to keep your bottom dry when it's raining.'
'The coat definitely made me feel safe on the road. Other road users can't miss the large reflective areas and detachable warning on the back to attract attention.'
Product: Harry Hall Hi-Viz Martingale (RRP: £16)
Special features:
Button-operated light with three settings for added visibility
Reviewed by:
Juliette
'The martingale was easy to fit and very adjustable, with a button-operated light that you simply needed to push to turn on or off. I did find that the neck strap tended to slip forwards up the neck, particularly when my horse put his head down to the floor, so a strap to attach it to the saddle D-rings would be useful.'
'But overall, the martingale really improved my horse's visibility on the roads. I particularly like the white light, which is really bright and has variable flash settings to really make it stand out.'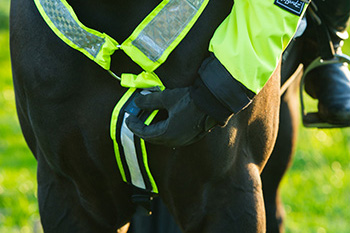 Win a hamper of hi-viz products, worth £180!
To help keep you safe on the roads this winter, we're giving away a selection of the products we've reviewed here. Head to our rewards and offers page to find out more and how to enter.