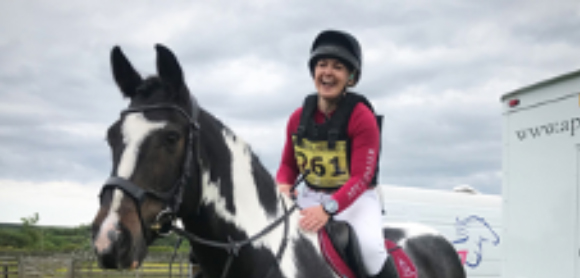 Defying the Odds: Meet Woody the Super Cob
Following reconstructive hip surgery when she was seven, Sarah's surgeon prescribed horse riding to help with her recovery. But from falling for a grumpy cob to nursing him through a tendon injury, their journey has been far from a smooth ride. Find out how Sarah and Woody defied the odds and achieved their eventing dreams.
"He was just standing there with his ears pinned back, in his winter coat and big hairy feathers — generally looking really grumpy."
Sarah wasn't even looking for a horse when she saw Woody's photo pop up on Facebook. But when she saw him, she just knew.
"That's my horse!" She said. "He's the one for me."
Sarah's story: just what the doctor ordered
Following major hip surgery when she was seven years old, surgeons advised Sarah's parents that horse riding or swimming would be best to aid her recovery. "They still joke that they should have opted for swimming!" Sarah laughs. But her eighth birthday present was five riding lessons and a pair of boots.
And that was that! Her first pony arrived two years later.
Like many young riders, Sarah had to give up horses when she went to university. But just a few months into her life as a new fashion graduate, it hit her…
"I don't think I can live without a horse!"
Meet Woody the Super Cob
Affectionately known as 'Super Cob' to his friends, trainers and admirers, Woody has been with Sarah for almost eight years now. And although they've had their ups and downs, he has proven himself not only a fantastic friend but a talented horse, competing at BE Novice level. And his superpower? Leaving bigger, flashier horses in the dust on the cross country course!
"In our first summer together, Woody and I had so much fun just hacking around the countryside that he didn't go anywhere for over a year," Sarah says, remembering days spent galloping around fields, through rivers and over ditches. Sarah believes that this early work is what made Woody into such a strong cross country horse.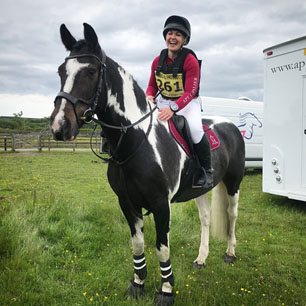 Flying the flag for cobs in British Eventing
While it's more common to see cobs and natives competing across all disciplines now, Sarah did meet some resistance in her early days on the eventing circuit.
"We went to do the BE100 at Floors Castle, which is a lovely, flat, straightforward course." On the morning of the event, Sarah was surprised to be politely informed by a fellow competitor that Woody wouldn't make the optimum time. "I was shocked! But in the end, I think we finished 25 seconds faster than her 17.2 eventer."
She puts Woody's success down to his unique jumping style.
"He's very economical. He seems to lift his legs while his body stays at the same level. So he saves about a second at every fence because he doesn't waste any energy jumping up into the air."
What's your stand-out eventing moment?
"In our second BE 100 at Dalston Green, there was a big open ditch with an upright behind it — a proper rider frightener!" Sarah remembers. "It was right beside the warm-up arena, the commentators and the car park, so you could see everybody going over it."
While nearly every rider had opted to jump the alternative 'learner' fence, once Sarah and Woody turned the corner, she knew they could do it. "He just locked on, took off perfectly, jumped it and halfway over I shouted "Woo hoo!" Everyone in the practice arena and the jump judges were laughing."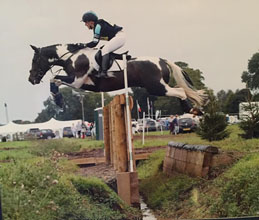 Eventing dreams and SDFT disaster
In 2017, Sarah and Woody made their dreams a reality and competed in two BE events at Novice level. Then disaster struck.
Woody had torn a superficial digital flexor tendon (SDFT) in his front leg.
"I'm no vet. But as soon as they put the scanner on it, even I could see the tear."
Woody was prescribed three months' box rest following lipogems surgery — a procedure in which fat is pulled from another area of the body and injecting it into the torn tendon. The first of its kind to be carried out in Sarah's local veterinary practice, her vet had to receive specialist training in advance of the procedure. Lucky for Sarah, she's insured with Petplan Equine, "Petplan covered all the costs and the payout was very quick," says Sarah, "They were great throughout the whole process."
Woody made a full recovery and evented again in 2019, "We spent the year having lots of fun together and mainly stuck to BE 100s." Since then, Sarah has been extra cautious about Woody's workload, "I struggle with the fear of it happening again which is reflected in his fitness work. He doesn't do as much as he did before. But we still have fun!"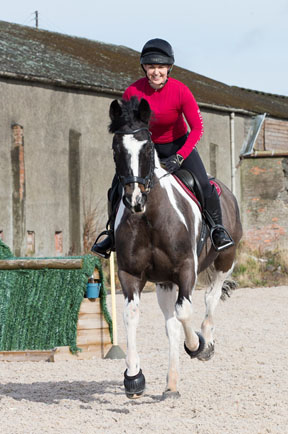 Staying inspired and motivated
"I take my inspiration from different events. For example, I'll watch Gatcombe if it's televised. My favourite riders are probably Oliver Townend and Christopher Burton."
But for Sarah — who now runs her equestrian clothing brand, Apt Cavalier — her real inspiration is closer to home. "Running my own business wasn't a conscious lifestyle choice, but it definitely gives me more time to spend with Woody."
"When I don't feel like riding, I remind myself that this is my hobby and what I've chosen to spend my hard-earned money on!"
Sarah's top tip for achieving your horsey goals
Find your horse's strengths and let them enjoy them, so they're willing when you ask for the more difficult work.
This means going to lessons, training and trying new things until you find out what your horse struggles with. For example, Sarah finds showjumping the most difficult discipline, so they don't often train over showjump fences at home.
"We end up not enjoying it. He rushes, I rush, and we both get frustrated." Instead of slogging away and getting nowhere, Sarah does polework exercises at home or jumps solid fences out hacking. She saves showjumping for lessons and competitions.
You can follow Woody's journey on Sarah's blog. Are you #defyingtheodds in your disciple? Share a snap of you and your horse in action with us on Facebook for a chance to be featured!