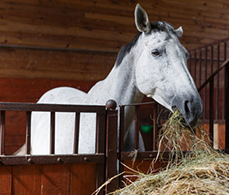 12 Time-saving tips for your yard
Dark nights, early morning, wet rugs, mucking out… and mud! Being a horse owner takes dedication all year round, but even more so in winter. Petplan Equine Ambassador Juliette Edmonds' tips will help you save time and get your daily chores down to a fine art.
1. Leave muddy legs
Avoid hosing your horse's legs to get the mud off after turnout. This not only saves time but, more importantly, it avoids repeat wet and cold conditions that increase the risk of mud fever. Either allow the mud to dry or, if the skin is wet, use drying leg wraps overnight - the mud will brush off more easily in the morning.
TIME SAVED: 15 mins
2. Ride and lead
If you have multiple horses to exercise, learn to ride and lead. Not only will two horses keep each other company on the hack, but you'll exercise both horses in half the time.
TIME SAVED: 60 - 90 mins
3. Turnout 24/7
If you have the option of keeping your horse turned out all year, this will not only save huge amounts of time mucking out, but it will save you money on bedding and can be more beneficial to your horse's mental and physical health.
TIME SAVED: 30 - 45 mins
4. Leave wet rugs on
If your horse's turnout rugs are wet when you bring him into his stable, leave them on overnight (as long as the horse is dry underneath). It's the quickest way to dry them and saves time with rug changes. You can always add a stable rug underneath if more layers are needed on a chilly night.
TIME SAVED: 10 mins
5. Deep litter your stable
Consider deep littering your horse's stable during the week and removing wet patches at the weekend when there is more time - just lift droppings and top up with dry bedding daily through the week so the top of the bed is dry.
TIME SAVED: 15 mins
6. Invest in rubber matting
Laying rubber mats in your horse's stable will not only make it warmer and comfier for him to lie down, but it also means you require less bedding, which saves money and time spent mucking out.
TIME SAVED: 15 mins
7. Team up with friends
Find a friend on the yard to share jobs with. This will greatly reduce the time you need to spend at the yard, especially if one of you does the morning shift and the other the evening shift. It could mean that you only need to visit the yard one end of the day instead of both, and you can even arrange it so you each get to have a weekend lie-in. Win-win!
TIME SAVED: 1 hour
8. Fill haynets in batches
There's nothing worse than battling with fiddly haynets when you're in a rush, so why not pre-pack a few at the weekend so that they are made up, ready for when you're busy?
TIME SAVED: 10 mins
9. Make up feeds in advance
You could do the same with your horse's hard feed and make breakfasts up the night before, or even multiple days' worth. Keeping them in containers with lids will help keep them fresh and prevent them from spilling or being eaten by unwanted guests.
TIME SAVED: 10 mins
10. Pack overalls and dry shampoo
If you head straight to work from the yard, invest in a decent pair of breathable, waterproof overalls that you can pull on over the top of your work clothes to stay clean and dry and save time getting changed. Simply whip them off once you are done at the yard and you're ready to go. Dry shampoo, a pack of wipes and a spritz of perfume will finish the job.
TIME SAVED: 15 mins
11.Pamper manes and tales
Using a mane and tail conditioner, or coat shine, will not only keep your horse's mane and tail in good nick, but it also helps prevent mud sticking and reduces time spent brushing it. Keeping your horse's tail a decent length (chestnut height) will prevent the ends from getting clogged with mud. Investing in a neck rug and/or Lycra hood will save grooming time. You could also plait manes and tails to keep them mud and tangle-free.
TIME SAVED: 20 mins
12.Buy tack wipes
Tack cleaning often gets missed when time is tight, so invest in some tack wipes to quickly remove any built-up dirt, grease and mud on the go, ensuring you give it a proper clean when time allows at the weekend.
TIME SAVED: 20 mins
How do you save time on the yard in the winter? Share your tips with us on Facebook.