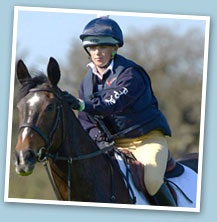 Lissa's Blog
Lissa Green is daughter of eventing legend Lucinda Green, and a CCI*** event rider in her own right. Lissa will be blogging for Petplan Equine every month so that we can follower her progress through the year as she aims for her first CCI**** event in the autumn at Burghley Horse Trials. Lissa will also include lots of top stable management and riding tips that can be taken home and used on your own horses.
Advice from Lucinda and Lissa Green
We hope you have found Lissa's blog interesting. At Petplan Equine we strongly believe that having the right training and knowledge helps owners to care for their horses. Our partnership with Lucinda and Lissa Green enables us to bring you advice on caring for your own horses as well as valuable training tips and exercises. Lissa is a sucessful and professional rider, who starts the horses herself and puts in hours of hard work and dedication just like all horse owners. From those of you aiming at local shows to those dreaming of the Olympics we have plenty advice to help acheive your goals.
Also take a look at:
Course walks - Join Lucinda at Badminton or Burghley for an insightful course walk
Training Exercises - Cross country schooling exercises to setup at home
Jumps explained - How to tackle the various types of jump found on a cross country course