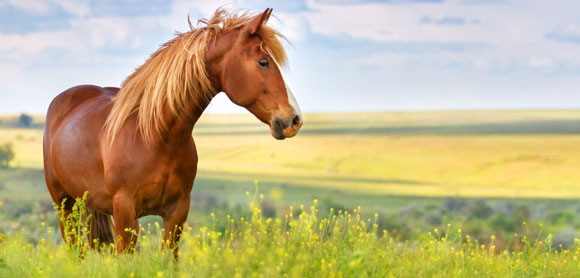 Keeping your horse safe from poisonous plants: How to spot them and what to do
What plants are poisonous to horses and what should you do if your horse eats something poisonous? Learn more about which plants to look out for and Petplan Equine veterinary expert Gil Riley shares his emergency equine poisoning protocol.
Weeds are great at outcompeting other plants. If there are more weeds than grass in your pasture, then your horse may start eating something they shouldn't.
Unfortunately, horses aren't always the best judges of which plants can do them harm. Keeping an eye on any poisonous weeds or hedgerow plants in your pasture means you can deal with them before they become a problem.
Which plants are poisonous to horses?
Some plants like blackberries and willow are great for your horse to forage. Others, like ragwort and mallow, are poisonous and should definitely be avoided. Our interactive guide can be used to find out more information about some common weeds and hedgerow plants.
What to do if your horse eats something poisonous
Call your vet.
Remove your horse from the paddock if possible and put them in the stable while you wait for your vet to arrive. Treatment will depend on what your vet believes to be the poison at work.
Check for symptoms and possible poisons. Your vet will want to know why you suspect your horse has eaten something poisonous. Being able to describe your horse's presentation will be a big help to them.
Is your horse behaving abnormally in the field?
Is he staggering or uncoordinated?
Is he showing symptoms of colic?
Is he drooling excessively?
Is there anything in their field that could be poisonous? For example:
Ragwort. Contains a toxin that causes profound liver damage.
Buttercups. Contain a toxin that 'burns' the lips.
Clover. A fungus can grow on clover that causes excess salivation.
Oak trees. Acorns eaten in large quantities can cause intestinal upset (colic, diarrhoea) and even kidney failure.
Sycamore seeds/saplings. Causes muscle weakness, lying down and, if untreated, death.
Yew tree. Causes sudden (sometimes almost instantaneous) death.
The signs your horse presents and what plants are in their paddock will help your vet narrow down the possible cause.
Treatment and next steps
Treating the signs (e.g. pain relief for colic) will be the first step. Next, rehydration is often an important part of any care, either stomach tubing or intravenous administration of fluids and electrolyte to replace lost fluids, to 'dilute' the concentration of toxin ingested and to help encourage excretion of the toxin by flushing it out of your horse's system.
Once the critical care is underway, your vet may need to perform some blood tests.
In cases of buttercup or clover poisoning, simply removing your horse from the plant is sufficient to start a resolution of the condition but in acorn poisoning, a blood test will give information on whether the kidneys are compromised.
If your vet suspects ragwort poisoning, then a blood test may reveal how damaged the liver may be. Sycamore poisoning is identified by profound muscle damage detected on the blood test.
The blood results will give an indication as to whether you have caught the illness in its early stages and thus have a reasonable chance of recovery, or whether any upturn resulting from the emergency medical treatment will unfortunately not be likely to stop deterioration.
How to stop poisonous plants from growing
Keeping your paddocks in good condition is the best way to maintain good-quality grazing and keep weeds at bay. Spring is the best time to start. Learn more in our guide to spring pasture management for horse owners.