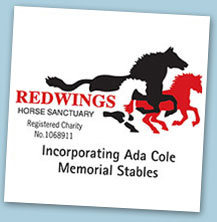 Support Redwings this winter
At Petplan Equine we agree with Redwings, the UK's largest horse sanctuary, that every horse and pony deserves the chance to have a comfortable and happy life which is why, last winter, we ran a highly successful campaign on facebook to help them to achieve this goal.
Petplan Equine's successful click and donate Facebook campaign was designed to raise awareness of and encourage support for Redwings' important work. For everyone who clicked 'donate' Petplan Equine gave a scoop of feed which resulted in Redwings being the beneficiary of over 14,000 scoops of feed - a sizeable contribution to the charity's overall ration which can be as high as 40 bags of feed a day through the winter months.
Petplan Equine would like to thank everyone who took the trouble to participate in this most worthwhile initiative.
In addition to this important 'feed-raising' campaign, Petplan has worked closely with Redwings throughout this year to help owners expand their knowledge of different aspects of horse management. Through its sponsorship of a series of leaflets and a Weight Management Evening presented by Redwings' Head of Veterinary Services, Nicola Jarvis B.Vet. Med, Cert AVP (equine medicine) MRCVS in April, Petplan emphasised its commitment to sharing knowledge as one of many initiatives that it is running at different shows and venues throughout the year.
Here are some of the horses we will be helping:

Laddy
You would be forgiven for thinking that luscious Laddy is a young buck, ready to take on the world!
Laddy was actually born in 1978, and came to Redwings at the grand age of 31.
Laddy was found severely underweight. This was simply due to the fact his teeth had not been cared for. He could no longer chew 'long fibre' foods like hay, and his jaw muscles were wasting away.
Once safe and sound at Redwings, it only took 2 months for Laddy to regain the 11 stone he needed to bring him back to a healthy weight.
Because of his teeth, Laddy needs extra feeds of soaked high fibre cubes throughout the day.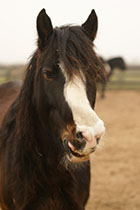 Snuffles
Snuffles has a condition called Wry Nose, where his muzzle twists to one side. He came to us when he was only one year old, and will continue to be cared for at Redwings for his lifetime. His owner had shut him in a barn away from sight because of his deformity.
Snuffles' condition means his top set and bottom set of teeth do not meet together. Horses' teeth naturally grind together whilst they eat and cleverly keep emerging from the gum to replace what has been lost. As Snuffles' teeth do not grind against each other, his teeth emerge from the gum unevenly and can have sharp hooks on them. Snuffles needs his teeth examined every three months to make up for this.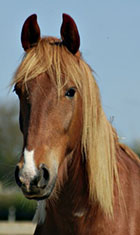 Zippy
Gorgeous Zippy lives at Redwings Ada Cole in Essex. He spent the first few years of his life enduring the horrors of Spindle Farm, Amersham. This was one of the worst cases of neglect and cruelty ever seen.
Over 100 horses and donkeys were seized from Spindle Farm in 2008. Many of them were emaciated and suffering with parasitic worm infestations, as well as a number of contagious diseases. Redwings gave a home to 62 needy horses and donkeys. Our staff nursed them back to health and helped to teach them to trust humans again.
Zippy and his four-legged friends have now made a full recovery. Many of them have found new loving homes through our Guardianship scheme. Zippy, however, lives up to his name and can be rather excitable! He will continue to be cared for by the Sanctuary until he is ready to find a new home.
To find out more about Redwings why not visit their website? www.redwings.co.uk