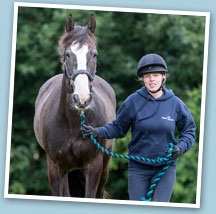 Spotting Lameness
Lameness in horses is very common and can be caused by something simple such as a bruise to the horse's hoof or something more severe including tendon problems or fractures. In 2015 it was a symptom in over 40% of claims we received and that's why it's important that owners can spot when their horse is lame.
Symptoms of Lameness
Your vet will examine your horse's legs and ask you to "trot your horse up" so that they can watch your horse's gait and determine the severity of lameness.
During a trot up, a lame horse may:
Have uneven footfalls
Nod its head
Be unusually reluctant to move forward
Have a reduced weight bearing ability
The vet will also examine your horse's legs looking for:
Heat
Swelling
Areas that are sensitive to touch
Abnormalities in the horses pulse
Veterinary Advice
Spotting lameness can be difficult, especially when the lameness is mild. Watch this video for great advice on spotting lame strides with Simon Joyner from Western Counties Equine hospital.
Yard Poster
Our yard poster is the perfect addition to any tack or tea room. Helping owners spot lameness' and providing valuable advice about dealing with common lameness's. Download this free poster and don't forget to write your yard's name in the box before putting it up.
Download
Test your knowledge
Take a look at the videos below and click the buttons to show which horses you think are sound or lame.
If you have a question about lameness, why not post it on our Facebook Page? Petplan Equine Veterinary Specialist Gil Riley will be happy to reply.