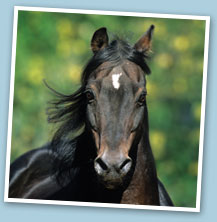 Buying Tips
Buying a horse is a big commitment, and there are lots of things to consider to make sure you choose the right one. You need to think about size, ability, breed and personality as well as the horse's age and what you hope to achieve from the partnership. Make sure to consider all the tips below when purchasing a horse and don't forget to use our handy health tips to help look after your new companion once he arrives.
Click on each tip for more information.
1. Are you insured to try the horse?
Make sure you are insured to ride the horses you try, not all of the horses will be insured for any rider so to protect yourself it's worth considering a rider plan. Petplan Equine has 3 levels of rider cover for riders aged 5 to 75.
2. Try everything yourself
Before you buy a horse make sure you try the horse in different situations, don't just take the vendor's word for it:
Catch
Clip
Hack
Load
Jump
Tack up
3. Try friends' horses
To help decide what sort of horse you want to buy ride lots of different types of horses.
4. Be realistic
Be realistic about your experience, skills and horse care budget; to ensure you choose a horse that you can support and enjoy the benefits of. Calculate the expected costs for your horse and don't forget to budget for Insurance
5. Don't go alone
Take a trainer or honest friend along with you and get some video of the trial to review later. Another person's opinion can help you decide if a particular horse is really what you are looking for. Watching the video will give you a chance to review your thoughts at a later date.
6. See the horse interacting with other horses
Does he kick, bite, appear nervous or seem relaxed? Make sure you get a full picture of the horse's temperament, how a horse behaves around others may affect how they need to be managed day to day.
7. Get a purchase receipt
Get a purchase receipt as proof of purchase with passport/microchip number, date, price, vendor's address, name and description of horse.
8. Ask about previous injuries and illnesses
Make sure you find out about any potential horse's history which could affect their ability to do what you want with them in the future. You can ask for vet records to help make your decision.
9. Always view the horse more than once
See the horse more than once to get a better picture of what is normal for the horse and to make sure you are happy with your decision.
10. Have a list of absolute essentials
You should know what you are looking for when you set out to buy a horse, what you want and what you need, and don't be swayed!
11. Ask lots of questions
Before making the trip to see a horse, ask relevant questions to make sure the horse is likely to be right for you, and see a video to get a better picture of what the horse is like.
12. Research the horse and vendor
Before buying a horse do your research into the horse – their competition record and bloodlines – and also look up the owner via social media and word of mouth to understand more about them.
13. Ask to see the horse in a show environment
Seeing and trying a horse in a show environment will give a better idea of how he reacts to different situations; particularly important if you intend to compete after buying.