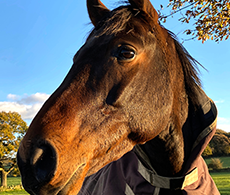 Meet your match: how to find the right horse for you
Whether you simply enjoy hacking out, or are a keen competitor, ensuring the next horse you buy matches your requirements and capabilities is essential. Our experts explain how to pick the right horse for your chosen discipline and ability.
Buying a new horse is an exciting prospect, but it's also something that requires thought, patience and planning. Ensuring the horse you purchase matches your capabilities and requirements will not only ensure you have a great time together, it will also save money and heartbreak in the long term.
Your requirements
When setting out on your horse-buying journey, the first thing to do is ask yourself what you want in a new horse. Do you want a safe hack that is good in traffic and calm in open spaces? Or perhaps you have competitive ambitions and would like to showjump or event? It's also important to be honest about your own capabilities and choose a horse that matches your experience and ability. The last thing you want is to buy a horse that ends up being too much for you.
Next, you can start looking for a new horse. To find out more about where to look for a horse and what the viewing involves, check out these top tips.
Involve your trainer
One way to ensure that you find the right match is to involve your regular trainer in the purchasing process. 'The trainer should be there to advise on the client's abilities or the horse's suitability for their abilities,' says Gil Riley. 'The riding instructor should assess whether the horse is suitable for the client.'
Horses for courses
It's important to look at the horse's genetics and conformation when deciding if it is the best match for your chosen discipline.
'A horse should be genetically and conformationally compatible with the purposes for which someone wants to purchase the animal,' says Gil. 'Asking a horse that isn't suitable in terms of build to perform a job it isn't capable of will predispose it to injury.'
If you wish to compete in dressage, showjumping or eventing, you ideally want a horse that is sound, in good condition and is built for the job. You don't necessarily need an expensive competition horse - many all-rounders are perfectly capable and can excel in lower level competition.
'Common conformational faults that cause problems, especially for competition horses, include excessively upright hindlimbs, which predispose the horse to suspensory desmitis and osteoarthritis in the hocks,' says Gil. 'Long backs are another problem as they can predispose the horse to back injuries.'
The rider should also be the right build and weight for the horse. 'If the owner is too heavy for the horse, it may cause ligament damage and osteoarthritis in the back, especially in a horse with a long, weak back,' adds Gil. 'A rider who is the right weight, but too tall, can also have balance issues that can impact the wellbeing of the horse, so the right height, shape and weight of both horse and rider all play an important part.'
Importance of a vetting
If the horse or pony matches your requirements and capabilities, the next step is to have the horse vetted.
There are two vetting options:
Two-stage vetting – In the first of the two stages, checks are made to the ears, eyes, heart, legs, general conformation and palpable abnormalities. The second stage checks soundness in a straight line.
Five-stage vetting – First, there is a health check, followed by watching the horse trot in a straight line. The third stage is exercise under saddle (can be done in lunge), the fourth stage examines the horse after exercise, and the fifth is a final exercise session to assess the horse after it has cooled down.
'Don't purchase a horse without a vetting, or one that already has a vetting that has been done as part of the purchase, as they could be hiding something,' advises Gil. 'It's also not about pass or fail – it's if the horse is suitable for the purchaser's requirements. If someone wanted to buy a horse as a quiet, safe hack, an older horse with a few blemishes and previous tendon injury or slight arthritis would be acceptable, but if the owner wanted to event or compete to a high level, it wouldn't be suitable.'
Having a horse vetted is also insisted upon by many insurance companies. An insurance company can advise the type of insurance cover available.
What our riders look for
We asked two Petplan Equine riders what they look for when choosing a horse for their specific discipline.
Jack Stancombe, eventer
'For eventing, they don't need to be extravagant movers or jumpers, but they need to have a good trainable brain,' says Jack. 'You'll get much further with a horse that wants to please than a flashy mover, but for eventing, I would choose a more careful jumper that's bold.
'I look at conformation, but wouldn't rule a horse out because something isn't perfect. No horse is, you just have to weigh up the conformation issue and whether it would be a challenge later in life or during training.
'I don't get too hung up on bloodlines – I'd much rather see the horse in front of me!
'The most important thing for me is whether I want to ride and train the horse every day. If the answer is yes, I normally buy it.'
Amy Tilston, dressage rider
'When looking for a potential dressage horse, I like to write down a list of what I'm looking for, which in turn helps to ask the right questions before I view, and can also help prioritise what's important to me.
'For a dressage horse, movement and trainability are key. I like a horse with a good walk and canter as they are the hardest paces to improve, and a horse that enjoys learning is definitely a bonus. Conformation is another thing to consider – if, conformationally, the horse is "downhill", it may be wise to seek a trainer's opinion as to whether this could be corrected by work, or if it instead may prove a limiting factor in athletic performance. I personally also like a kind horse that is friendly and forgiving.
'I would rather have a smart, friendly, trainable, forgiving horse than a talented, quirky, superstar that I would struggle to ride.'
Building a bond
Bringing a new horse home can be daunting while you get to know each other, but there are ways to help settle them in and ensure they are healthy and happy.
Horses like predictability, so establishing a routine will help settle a new horse. Introduce them to other horses in the herd slowly and safely. To help bond with your new horse, spend time grooming and handling them. Some people like to give the new horse a few days off ridden work until they are settled. You could then start by lunging and working the horse in-hand, slowly building up as the week goes on.
Ask your trainer to help you if you feel nervous, and try not to put any pressure on either of you. If you get the foundations right, you should enjoy a successful future together.
What do you look for when buying a new horse? Share your thoughts on our Facebook page and find out what other owners think.