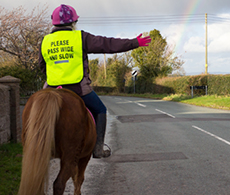 Riding and Road Safety Tips for Horse Owners
Author: Georgia Guerin
Expert contributors: Rachel Barker & Gil Riley
Do you ever worry about riding on the road? Here are our top recommendations for keeping you and your horse safe on tarmac, plus how to report an incident if you have problems on the road.
For most equestrians – whether you're a rider, carriage driver or handler – using the road is an unavoidable and regular undertaking. It's something that we could do without – we'd all rather hop straight onto a bridleway. But we accept that roadwork is part and parcel of accessing bridleways and keeping our horses fit.
When you look at recent statistics from the British Horse Society (BHS), it's easy to see why horse owners aren't always keen to ride on the road. In the 12 months leading up to February 2021, 46 horses died in road incidents, while 45% of riders experienced road rage or abuse. That's why it's so important that we do everything we can as riders to keep ourselves and others safe on the road.
Here's what you need to know...
Is it legal to ride a horse on the road in the UK?
Yes. Provided you follow the Highway Code, you can ride a horse on the road in the UK. Horses are not allowed on footpaths or pavements and there are specific rules and a Code of Practice for Horse-Drawn Vehicles.
What are the rules for passing horses on the road?
Drivers must be particularly careful when passing horses on the road, as stated in Rule 214 of the Highway Code: 'Always pass wide and slowly. Horse riders are often children, so take extra care and remember riders may ride in double file when escorting a young or inexperienced horse or rider. Look out for horse riders' and horse drivers' signals and heed a request to slow down or stop. Take great care and treat all horses as a potential hazard.'
Is there a highway code for horse riders?
There are specific rules for horse riders in the Highway Code. Read them here under Horse riders (rules 49-55).
2022 Veterinary Awards: don't miss your chance to nominate!
It's never been so important to show vets our appreciation for all their hard work, so tell us about your own inspiring animal hero...
9 tips for staying safe when riding horses on the road
Always follow the Highway Code. The link above will take you straight to the parts of the Highway Code you need to know. They give guidance on preparing to ride on the road, what to wear and how to signal other drivers correctly.
Wear horse and rider hi-vis. Regardless of the time of day, wearing a hi-vis jacket and hat band or cover, plus popping a hi-vis exercise sheet, boots or breastplate on your horse will allow other road users to spot you sooner and react accordingly. Every extra second you can buy yourself is valuable, so the more hi-vis you can wear, the better.
Check your riding hat is up to standard. This is a simple step that could save your life. While different governing bodies (like British Riding Clubs, British Dressage or British Eventing) each have their own riding hat safety standards, there's no one listed standard for riding on the road. But it's best to make sure your hat adheres to one of the latest standards and you can check this useful BETA Guide to Riding Hat Standards if you're not sure.
Ride at the safest time of day. Avoid using the roads – even walking in-hand – in failing light, darkness, or foggy, snowy or icy conditions, unless absolutely necessary. Avoid times of high traffic, too, whenever possible. If you're long reining or leading your horse on the road, always have a helper with you and make sure all three of you are wearing hi-vis.
Be courteous to other road users. We all want drivers and other road users to be on our side and every pleasant encounter helps! If you can't let go of the reins to thank them, a nod and a smile will go a long way.

'As a rider without the luxury of an arena at home, I spend a fair amount of time out hacking,' says Petplan Equine Ambassador Rachael Barker. 'I always try to be highly visible and conscious of my presence on the road. Respect for other road users goes a long way, and helps to build good relationships within your local area. Always thank courteous drivers where possible, and remember to set a good example for other equestrians, too.'


Be aware of your environment. Equestrians know better than most how important it is not to take your eye off the ball. Avoid checking your phone when riding and don't be tempted to wear headphones out hacking.
Give clear and decisive signals. Give other road users plenty of warning with clear signals that tell them exactly what you're doing. This avoids confusion and gives them a chance to decide which safe action to take. To make a turn, raise your arm at 90 degrees to your body, with your palm flat and your thumb at the top. See Rule 55 for more on correct hand signals.
Educate other road users. Start by explaining to your friends and family how to pass a horse on the road safely. Advise that they slow to 15mph, be patient, pass with at least a car's width and drive away slowly. There's more information for motorists on the BHS website.
Make the most of technology. Always carry a mobile phone with you in case of emergency. Body cameras are useful for providing a record of any incidents and other road users tend to consider their behaviour more carefully if they see you wearing one.
How prepared are you for riding on the road?
Take our Riding and Road Safety Quiz to see if you're ready to venture out safely with your horse.
You can also boost your knowledge through the BHS Ride Safe Award, which is open to all riders aged 11 and over. The award aims to make riders more knowledgeable and confident in a range of circumstances, including negotiating hazards and obstacles, and dealing with conflict or difficult situations on the road.
What to do if you're involved in an incident with your horse on the road
If you're involved in an incident on the road while riding, which is classed as anything that makes you feel unsafe, you should report your experience on the BHS website or via their new app. This allows the BHS to compile the most accurate statistics and paint a clear picture of what is happening on our roads, which can be shared with other related organisations and used to lobby the government.
What's it like riding on the road in your area? Have you seen any positive changes, like improved horse awareness or new signage? Share your experiences on the road with us on Facebook.