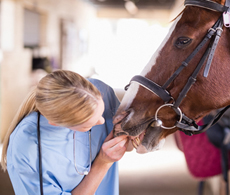 Equine insurance check: are you still covered?
Hacking, training, arena hire and even competitions are (tentatively) back on! Have your plans changed in the past few months? Now is the perfect time to review your cover to make sure you're covered for all the activities you want to do with your horse. Otherwise, you could find yourself unable to make a claim if the worst happens. In this article, we explain how to review your equine insurance cover to make sure it fits your plans.
How often should you review your horse insurance?
We recommend reviewing your insurance policy every year or when you and your horse are ready for the next level – whichever comes first. You can also downgrade the activities you're covered for if, for example, as your horse gets older and his workload decreases. A change in activities often means you need to update your insurance policy. Here are some common examples:
Your young horse is ready to start his training.
Have you had your youngster insured as a horse at grass? Backing and breaking-in horses can be challenging enough, so it's essential you update your policy so you're covered throughout the process.
Your older horse is ready for a quieter life.
Is it time to take a step back from competitive eventing and keep him ticking over at riding club instead? As your horse ages and his workload changes, you have the option to downgrade the activities you're covered for.
You want to try something new.
Have you always been a happy hacker and now you've booked your first flatwork lesson? If you're only insured for hacking, you'll need to update your cover.
You're ready to move up a level.
Unaffiliated and affiliated competitions come under a different insurance group. This also applies if you're moving up to compete at Elementary level dressage, Endurance rides over 25 miles or BE90 and above.
You're taking a horse on loan.
Owning and loaning can be a grey area, so always ask if your new loan horse is already insured, what exactly he is covered for and if his cover includes extras like Third Party Liability or Personal Accident Cover. If he's not covered, you can insure him yourself as his loaner. If his existing insurance doesn't cover riding and handling, you may want to consider taking out rider insurance to make sure you're covered if you have an accident.
Your horse is recovering from injury. Why pay for extra cover you don't need? You can downgrade your activity cover while your horse is on rest instead.
What does equine insurance cover include?
You can choose what your horse insurance covers but most horse insurance policies provide mandatory basic cover for 'death, theft and straying'. This means your equine insurer will pay out the market value of your horse if he dies or is lost or stolen. Our Petplan Equine insurance policies also offer a range of optional benefits you can add to your policy:
Vet's Fees.
This provides cover towards the veterinary costs of treating an illness or injury, including diagnostics and complementary treatments your horse might need. The right cover will give you peace of mind that, should the worst happen, you'll be able to afford the best care for your horse without worrying about growing vet's bills.
Not all horse insurance is the same – especially when it comes to veterinary fees – so we recommend never choosing your policy based on price alone. Instead, do a horse insurance comparison to check what cover is offered by several companies. For example, if your horse is insured for hacking and pleasure rides only, but sustains an injury at a showjumping competition, your insurance will not cover the vet's fees.
Permanent Loss of Use.
With this benefit, your equine insurance company will pay up to 60% or 100% of the sum insured if, due to an illness or an injury, the horse is permanently unable to participate in one of the activities for which it is insured. If you choose this benefit, it's even more important to make sure your horse is covered for the activities you do with him.
Here's an example. You originally insure your horse for hacking but have since started eventing at BE90 and haven't yet got around to change your insurance to cover this activity. If your horse sustains an injury that means he's permanently unable to compete in eventing at that level but can still go hacking, you would not be eligible to claim Loss of Use. So it's important to make sure you're covered for the right activities.
Third Party Liability.
This pays towards the legal costs and compensation you may have to pay, if you are found legally liable for damage, injury or death as a result of an incident involving your horse. For example, if your horse runs into the road and causes an accident.
Personal Accident.
This can provide financial support in the event of an accident that results in injury to the rider or handler of the insured horse. It can apply to you or others who ride and handle the horse you have insured.
Saddlery and Tack.
Pays towards the cost of repair or replacement of lost or damaged saddlery and tack.
Learn more about our various equine insurance cover benefits.
Which horse insurance do I need?
In short, you need to insure your horse for the activities you want to do with him. We offer different types of horse insurance depending on what you want to do with your horse and how much extra peace of mind you want (eg Do you want us to pay out for vet fees if your horse gets ill or is injured? And do you want to cover your brand-new saddle too?). Most horse insurance companies offer two or three activity groups but at Petplan Equine, you can choose from six different groups to help you tailor your cover. Are you still in the right one?
Group 1
Breeding.
Horse at grass.
Retired Horse.
Group 2
- (includes group 1 activities)
Hacking.
Rides up to 25 miles.
Group 3
- (includes group 1 & 2 activities)
Backing and breaking in.
Flatwork & groundwork.
Mounted games.
Riding and pony club activities.
Trec.
Unaffiliated dressage.
Unaffiliated showing.
Unaffiliated show jumping.
Vaulting.
Group 4
- (includes group 1,2 & 3 activities)
Affiliated showing.
Cross country and hunter trials.
Dressage below elementary.
Eventing - Unaffiliated, BE80 and BE90.
Jump cross.
Non-competitive driving.
Affiliated show jumping.
Team chasing up to 90cm.
Group 5
- (includes group 1,2,3 & 4 activities)
Competitive driving.
Elementary dressage and above.
Endurance rides over 25 miles.
BE100 to intermediate eventing.
Hunting.
Group 6
- (includes group 1,2,3,4 & 5 activities)
Advanced eventing.
Horse ball.
Point to pointing.
Polo.
Polocrosse.
Team chasing 90cm and above.
If you've set new goals with your horse this year or you just want to get out and have fun doing something new, remember to check what activities you're covered for.
What about insurance for older horses?
Older horses can be great for teaching novice riders, although plenty never seem to act their age! The truth is, we've all known horses who have stayed fit, healthy and competition-ready well into their golden years. That's why at Petplan Equine, we continue to cover illness until your horse is 25 years old, providing his cover was taken out before his 20th birthday. Our Veteran Plan also provides injury cover for horses and ponies aged 17 and over.
If you're already on the Veteran Plan, please check that your horse is insured for the activities you are currently taking part in to make sure you're covered if he sustains an injury.
https://www.petplanequine.co.uk/insurance/insurance-veteran-plan.asp
Can I upgrade my horse insurance cover?
If you're an existing Petplan Equine customer, you can move up or down an activity group at any time. Just call us on 0345 074 2676.
For a new policy: