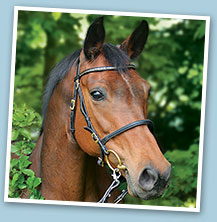 Horse Insurance
Petplan Equine is a specialist provider of horse insurance and over the last 30 years has established a reputation for providing invaluable cover and exceptional customer service. This vast experience allows us to offer a range of policies that can be tailored to suit the needs of horse owners. From first time owners and casual riders to top Eventers, Petplan Equine is here to provide the essential cover in the event of the unexpected.
Choose the right Horse Insurance and get 1 month free
(Terms & Conditions apply)
The Essential Benefits of Horse Insurance
Regardless of the pursuits and activities you enjoy with your horse there is some cover that as a rider, you should never be without. Accidents can happen at any time and under a Petplan Equine policy we offer several essential benefits as standard:
Cover for the loss of your horse by theft or straying
Protection in the sad event of your horse's death
Legal Advice Helpline open 24 hours a day
Tailor your cover to your needs
Our philosophy is to give our customers as much choice as possible and our policy allows you to select the exact level of cover you need. Tailor your cover to be as individual as your horse by choosing from a list of optional benefits including:
Up to £5,000 in vet fees per condition
Third Party Liability cover up to £5million
Permanent Loss of Use
Personal Accident
Saddlery and Tack
Disposal
Cover for trailers and horse-drawn vehicles
Terms, conditions and excesses apply
The key advantages of insuring your horse with Petplan Equine
Today, more and more owners are choosing to keep their older horses on active duty rather than putting them out to grass. One of the key features of our horse insurance policy is that while many insurers still limit cover to injury only for horses aged 16 years or over, we cover illness up to 25 years of age - as long as cover is taken out before the horse's 20th birthday.

In addition to covering the costs of veterinary treatment, we don't limit the amount that can be claimed for complementary treatments such as physiotherapy, acupuncture and specialist farriery - provided the cost is within the maximum veterinary fee benefit. This allows your vet to administer any specialist treatments that you horse might need - helping it to make as swift a recovery as possible.

Recent advancements in the veterinary sciences have helped improve the effectiveness of diagnosis and subsequent treatment for horses. This is great news for our horses but it also means that many can remain fit and active for longer. So in the event that your horse was to succumb to illness you can rest safe in the knowledge that your Petplan Equine policy would help pay towards the full cost of diagnostic treatment – up to the vet fee maximum benefit or within 12 months, whichever limit is reached first.
Whatever your needs Petplan Equine is here to provide the essential cover for you and your horse. To find out more about the policy benefits visit our Details of Cover page.
Please note that terms, conditions and excesses apply to the vet fees benefit if selected as part of your policy.
To obtain a quote for Petplan Equine horse insurance then click here