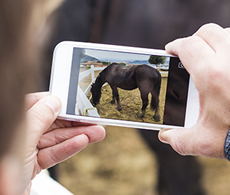 7 horsey social media accounts you need to follow
Social media has been amazing for keeping us all connected this year. So this week, we share seven horsey social media accounts that we love following. From whimsical eventers sharing confidence tips and training ideas to Shetland ponies who go glamping, here are the social media heroes making us snort into our tea, get motivated to train, and hug our horses that little bit tighter. Who have we missed?
Social media has been a lifeline for us over the past few months, especially for that much-needed horsey fix! From pony adventures to honest eventers, we share our top seven equestrian social accounts that promise to inspire you, your next training session and maybe even your whole outlook on life.
Follow sisters Kizzy (6) and Ettie (4) as they take on the world aboard their sweet little ponies. If you were lucky enough to learn to ride as a tiny tot, watching Cinderella bob along an open field with her tiny (giggling) jockey will no doubt bring an array of emotions flooding back. Really, it's no surprise that the tiny steed has been spotted going for a pint in her local.
Follow on Facebook @kizzyandettiesponyadventures or on Instagram @kizzy_and_etties_ponies for fun and frolics and a good helping of down-to-earth 'pony parent' commentary.
19-year-old Cob cross and disgraced riding school pony, Guess Again (Jess), might not look like your typical event horse at first glance. But equine vet and Petplan Sponsored Rider Juliette describes her as the 'wonder pony' and one of the most talented jumpers she's ever ridden. Join Juliette on her eventing journey with Jess and her Warmblood X ISH 'project' horse, Boodles.
Follow @julietteedmondseventing on Facebook for candid insights into balancing life as an equine vet with keeping her two horses in work, and somehow still managing to fit in competing! Aside from her great polework exercises and training tips, there's always something like carrot yoga with Boodles to make you smile.
When it comes to jaw-dropping stunts that would leave most of us quaking on our mounting blocks, even with a full set of tack, Emma Massingale is the master! Trainer, film-maker and free-riding expert, Emma's videos are guaranteed to brighten your day. There's nothing quite like watching her work with her herd of Connemaras on the beach – completely at liberty. Although we can't help but feel we'd end up a mile or two out to sea quite quickly.
Follow @emmamassingale on Facebook and YouTube. If you love Shetlands, or just pony mischief at its best, we recommend you start with Albert and Ernie Go Glamping. Can you see yourself adopting Emma's personal ethos? No reins… No rules… No Limits!
The fabulous Amy Tilston is a Petplan Equine ambassador from Lincolnshire who competes in British Dressage. Her brood includes Tico, her home-bred 18.2 warmblood, who successfully competed right up to Advanced Medium before retiring due to injury; Jasper, her Friesian dream horse, who competes at Medium level; and the baby of the bunch – five-year-old Friesian baby Yinthe.
Follow @amytilstondressage on Facebook for training tips and motivation, competition news and plenty of updates on her fairy-tale ponies. We're particularly enjoying following young Yinthe, as Amy continues his education and gets him ready for everything the big, wide world has to throw at them!
Jake Tarrant is one of a kind. Or perhaps, more accurately, one of several kinds – introducing himself in his unapologetically tongue-in-cheek Facebook cover video as 'instructor, TV star, skilful rider, commentator, eventer, beast tamer and hero to all', while he performs stunts like limboing under an oxer and making an unplanned dismount at a water jump.
Follow @littlebentleyeventing on Facebook and Instagram for lots on the ups and downs of eventing, being an equestrian, family life, training tips, video challenges and plenty of hilarious pet videos. His recent Jumping in Style videos are some of our favourites!
Looking for advice, inspiration and training tips from the UK's leading riders and trainers? Here at Petplan Equine we bring you amazing content every week from some of the biggest names in the industry. Oh, and if your horse feels like posting a selfie or sharing your latest 'through the ears' shot, we may be partial to a few of those as well…
Follow us on Facebook @PetplanEquineUK for caption contests, photo challenges, quizzes, expert training videos and polework exercises, updates and exclusive content from our Petplan ambassadors. Had some time off this year? Get started with our video series Bringing Your Horse Back into Work with eventer Lucinda Green MBE and vet Juliette Edmonds.
This one's inspiring, heart-warming and a reminder never to let your weaknesses hold you back. Morgan has owned her 20-year-old Appaloosa, Endo, since he was a foal, but their journey has been anything but straightforward. At eight years old, Endo lost both of his eyes to equine recurrent uveitis, glaucoma and cataracts. Did that stop them?
Follow @endotheblind on Facebook or read more about Morgan and Endo here. A true story of how the bond between horse and rider can defy the odds, it's a reminder to us all to value the relationship we have with our horses, and this pair will always put a smile on your face at the same time. Our favourites include Endo's jumping video and the pair tackling the Mountain Trail 2018, with commentary from Morgan explaining how Endo navigates his environment without his sight.
Still waiting on that sugarbeet? Here's your extra credit:
For dressage divas: Crew Crispy Dressage, Diamonds in the Rough Dressage
For an honest and heartfelt take on horse ownership: The Red Mare
For hairy-horse power: Riding Remington
Who have we missed? Shout out your favourite horsey-follows with us on Facebook!