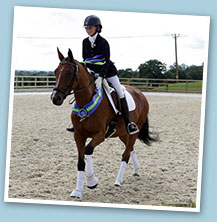 British Dressage Petplan Equine Area Festivals 2016/ 2017
Petplan Equine is delighted to announce its ongoing sponsorship of the Petplan Equine Area Festivals. Once again joining forces with British Dressage, Petplan Equine is giving riders of all levels the opportunity to experience the thrill of taking part in prestigious championship-style dressage shows. High profile, yet relaxed and friendly - they are the perfect introduction to the thrill of competing for you and your horse.
There are 17 Petplan Equine Area festivals that run from August to November at leading dressage venues across the UK giving amateur riders the chance to compete in beautifully prepared arenas and experience true championship conditions. Currently more than 3,500 riders take part each year and enjoy the experience of riding in the atmosphere of a top show.
Although competing at the Area festivals is an achievement in itself, the top 2016 winners and runners-up will also be invited to attend the Petplan Equine Area Festival Championships in April 2017.