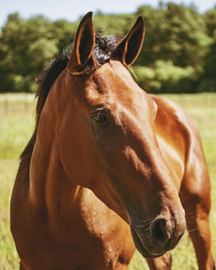 Beat The Heat This Summer
Summer is here and it's time to enjoy the sunshine and longer, warmer days with your horse. However, with the increased sunshine and rising temperature, there are things you should be aware of to ensure the well-being of your horse. Petplan Equine have teamed-up with veterinary expert Gil Riley to give you a guide to things to watch out for this summer.
Things to watch out for this summer
Dehydration
Working your horse on a hot and humid day can result in excess sweating and potential over-heating. This can lead to dehydration and other conditions, such as muscle cramping or tying up due to electrolytes being lost in the sweat.
What are the symptoms?
Symptoms of dehydration and over-heating include:
Loss of elasticity in your horse's skin which you can check using the 'pinch test'. Pinch your horse's skin in an area such as the neck. If the skin stays elevated and does not return to normal immediately upon release, it is likely your horse may be dehydrated
Dark urine or not passing urine regularly
Shallow and rapid breathing or increased heart rate
Dull, listless and depressive behaviour
What you can do:
Offer and encourage your horse to drink cool water
Avoid exercising your horse in the heat
Allow your horse frequent rest breaks whilst working
Take it slow and let your horse acclimatise. Don't expect the same intensity of work from your horse in the heat
Allow your horse rest in a cool stable or shelter
Cool your horse off using cold water, scraping the excess off before repeating
Supplement lost salt and electrolytes. Adding salt to the feed will also encourage drinking
Monitor your horse for physical or behavioural changes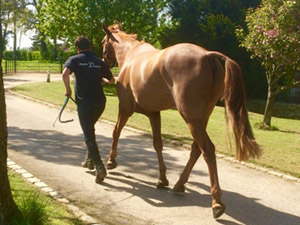 Lameness and Exercising On Hard Ground
During the summer it is often the case that the ground dries up and becomes very hard. This can cause issues for your horse's feet. The lack of moisture can cause your horse's feet to dry out, leaving them dry and brittle. Furthermore, fast work or jumping on the hard ground could also cause issues such as concussion, jarring, bruising of the foot and even tendon injury.
What are the symptoms?
Symptoms of injury may include:
Cracking of the hoof wall
Lameness
Increased tension when asked to work
Shortening of the horse's stride
An unwillingness to go forward
An unwillingness to walk on stony or uneven ground, preferring to walk on grassy areas rather than hard surfaces
Stopping or refusing to jump
What you can do:
Assess and be aware of your horse's foot condition and conformation. Horses with low heels are more prone to bruising of the soles and the sudden change from wet to dry conditions may dry out their hooves
Keep the hooves moist by painting hooves oil on daily
Avoid doing intense, fast work or jumping on the very hard ground
Make sure to both warm up and cool down your horse adequately
Cold hose or ice your horse's legs after a strenuous workout
Try to ride on softer surfaces and avoid the hard ground
If you're at all worried, speak to your vet or farrier
For more information on lameness, click here.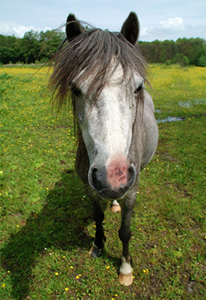 Sunburn
It can be easy to forget that the sun can be harmful to our horses, just like us. The pigmentation of a horse's coat and skin will help protect them from sun damage but those with thin coats and non-pigmented (pink or white) skin are especially vulnerable to getting burnt. Areas such as the head, muzzle and heels are most likely to be affected.
What to look out for:
Reddening of the skin
Dry, cracking skin
Sunburn blisters or scabs
Peeling skin
Unusual head-shyness
What you can do:
Apply a high factor, waterproof sun cream to your horse's susceptible areas
Make sure your horse has access to shade
Use a fly rug and fly mask with a nose cover
Treat any sore or burnt areas with aloe vera gels or moisturising, emollient creams
Bring into the stable for the hours when the sun is hottest. Just remember, brick stables tend to be cool during the heat of a summer's day but wooden stables can retain heat and be very warm during a hot day.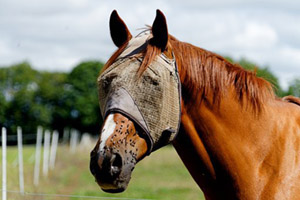 Flies
During the summer months, flies are particularly active and can prove a problem for both horse and rider. They tend to be especially active on bright, sunny days and rarely appear in the dark. Horseflies are especially troubling and their bites can cause a painful reaction on both humans and horses.
What to look out for:
Lumps and swellings
Your horse becoming particularly itchy or sensitive to the touch or whilst you brush him
Most at risk areas include the horse's chest, underside and legs
What you can do:
Use fly rugs and sprays to keep the flies off your horse's skin – apply more than once daily if necessary
If possible, stable during the day and turn out over night when the risk of fly bites is lower
Ice or cold hose irritated areas to reduce inflammation
Use soothing shampoos to reduce the itch
Use topical anti-itch creams
For more information on flies, click here.
Laminitis
With spells of sunshine and rain, it is perfect grass-growing weather. This may mean your horse is at a higher risk of laminitis. Laminitis refers to the inflammation of the laminae, which are soft tissue structures found in the foot. They lie between the hoof wall and the pedal bone and their purpose is to provide a secure attachment between these two vital structures.
Whilst not the only cause, horses that are overweight are more likely to suffer from this condition so it's best to monitor them closely. When a horse is in a suitable condition, it should be possible to palpate the ribs easily and any neck crest should be minimal. You can use a weight tape regularly to monitor any changes.
What are the Symptoms?
A reluctance to walk
They may show a slight 'heel before toe' gait
An uncomfortable stance, with more weight placed on the hind limbs and the front limbs slightly stretched out in front
Frequent shifting of weight, increased foot lifting or laying down to relieve pressure
Heat or a digital pulse in the affected feet
What you can do:
If your horse isn't showing signs of discomfort yet but you're worried, help them burn a few extra calories to bring down their weight
Supplement with soaked hay, allowing you to feed the right amount of forage with lower risk of weight gain
You can limit your horse's grass intake by using a grazing muzzle or by restricting the area they are allowed to graze on
Speak to a feed supplier/dietary advisor to seek advice on what to feed your horse
Speak to your farrier about supporting your horse's foot
If you're at all worried about your horse, speak to your vet. They will be able to give you the best advice
For more information on laminitis, click here.
For more tips and advice on caring for your horse visit our Horse Advice area.