Improve Your Performance With Poles
Are you looking for some exercises to help spice up your schooling? Do you need some pointers to develop the straightness, suppleness, balance or responsiveness of your horse? Look no further! Here at Petplan Equine we recognise the importance of keeping your horse's routine and schooling sessions varied and fun, and have put together a series of training tips which may help to inspire you and your horse.
Click the icons below to reveal some great pole, jump and grid exercises for you and your horse to try.
Exercise of the month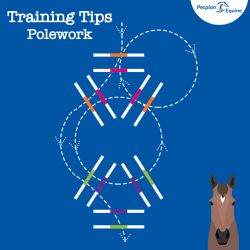 The Double Triangle
This exercise is so diverse and can be used to help your horse's suppleness. Ridden in walk and trot, this exercise will really get your horse thinking about where their feet are.
Read More
Stride Guide
Unsure how to correctly set out your poles? Check out our Stride Guide with Petplan Equine Ambassador Laura Gordon.