Improve Your Performance With Poles
Are you looking for some exercises to help spice up your schooling? Do you need some pointers to develop the straightness, suppleness, balance or responsiveness of your horse? Look no further! Here at Petplan Equine we recognise the importance of keeping your horse's routine and schooling sessions varied and fun, and have put together a series of training tips which may help to inspire you and your horse.
Click the icons below to reveal some great pole, jump and grid exercises for you and your horse to try.
Exercise of the month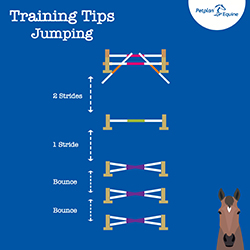 The Gymnastic Grid
This exercise is great for gymnastic jumping and to encourage your horse to snap those knees and bounce along, using their back.
Read More
Stride Guide
Unsure how to correctly set out your poles? Check out our Stride Guide with Petplan Equine's rider Laura Gordon.
Polework with Charlie Hutton
We're here with International dressage rider, Charlie Hutton who explains to us the benefits of using polework as part of your horse's training. Petplan Equine's rider Charlotte Wadley also runs through some of Charlie's favourite polework exercises.
The benefits of polework with Charlie Hutton
Using poles for suppleness and engagement
Using poles to work on balance
Using poles to ride an accurate 20m circle
Using poles and a cone to guide a turn on the forehand
Using raised poles to work on elevation and elasticity