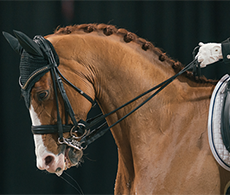 Competing in winter
From indoor show jumping and eventing to Petplan Area Festival dressage and hunter trials, there are plenty of competitions to keep you and your horse busy this winter. We look at what's on offer through the winter months and offer tips for surviving shows when it's cold and wet.
While some riders prefer to give their horses the winter off, others relish the chance to continue keeping their horse fit and get out to compete. Indoor schools and all-weather surfaces mean that there are still plenty of options for riders to get out and about and enjoy their horse despite the weather.
From the exhilaration of hunter trials, the speed and accuracy of show jumping and the intricacy and elegance of dressage, there's a wide range of competitions for you and your horse to enjoy this winter.
Winter dressage
Whether you're an experienced dressage competitor or just starting out between the white boards, the Petplan Equine Area Festivals are friendly and relaxed, and the perfect way to experience the excitement of qualifying and competing at a championship show. Riders can either compete in Bronze or Silver, depending on their experience and previous competition results. For the winter series, qualification begins in July and runs through until December with the Area Festivals taking place in January and February the following year. The series concludes with a Championship. Find out more at www.petplanequine.co.uk/area-festivals/area-festivals.asp
Winter show jumping
For those who enjoy show jumping, many equestrian centres with indoor and outdoor arenas offer winter show-jumping shows, both affiliated or unaffiliated, with a variety of different height classes. If you want to aim for championships and compete in leagues, British Showjumping offers a host of championships to qualify for across all levels through winter from young horse classes to pony classes and amateur classes. Find out more about winter qualifiers at www.britishshowjumping.co.uk/shows_winter_venues.cfm
Winter eventing
If eventing is your game, the British Eventing (BE) winter series comprises Arena Eventing, which combines show jumping and cross-country fences on a surface, and Harry Hall One Club Anyone Can Event (ACE), an arena style eventing competition. Both of these competition formats are open to members and non-members of BE. ACE is open to riders aged 10 and up, and includes heights from 70cm to 100cm. Events run from January through to April, with the next championship taking place at Aintree in June 2024.
Arena Eventing is open to riders from age 12 and up, and includes a show-jumping round followed by a simulated cross-country round with heights from 80cm to 100cm. The next championship will be held at Aston le Walls in April 2024, with events running throughout the winter months from November to March leading up to this. Find out more at www.britisheventing.com
Hunter trials
If you love the thrill of galloping over fences through the countryside, hunter trials are for you!
Hunter trials are events where riders tackle solid cross-country fences clear in the fastest time or within the optimum time. The competitor with the least amount of penalties and closest to the optimum time is the winner.
Riders can compete as pairs or individuals. In the pairs class there are 'dressing fences' where riders must tackle specific fences side by side in perfect synchronisation.
Hunter trials are great for riders of all abilities, and most offer classes from 50cm through to more technical 1m courses.
Preparing for summer events
For riders who event, winter is a great time to practice each of your phases individually. With plenty of dressage and show jumping taking place through the colder, wetter months, it means you can still get your eventer out and work on your phases in the comfort of an indoor arena.
Hunter trials are another great way of practising your cross-country skills for eventing without the pressure of the other two phases.
Winter competitions are also a great way to introduce young horses to shows before the busy summer season kicks off, or build your confidence as a rider.
Tips for surviving winter shows
While winter shows are great for motivating you to keep you and your horse fit and competition ready, they also require some planning so you don't get cold and wet.
Here, we offer some tips for surviving shows in the winter months…
1. Dress for the weather
'There's no such thing as bad weather, only unsuitable clothing,' said Alfred Wainwright, and we horsey types couldn't agree more. It's not only important to dress smart when competing, but also make sure you're wearing enough layers to stay warm. Base layers are a brilliant way to add extra warmth without bulk to your competition outfit and they are also wicking if you perspire during your performance. You'll also find thermal socks cosy as well as thermal gloves, and there are even thermal competition boots available on the market. A good tip is to always have spare, dry clothing in your car or lorry so that if you do get wet, you can get changed into something dry.
Which leads us on to waterproofs – don't forget your waterproof layers for wearing over your competition gear while you warm up.
2. Pack extra layers for your horse
If your horse is fully clipped, pack a thermal exercise sheet to keep their quarters warm while you are warming up, and a rug to put on them while they stand around waiting. You might also want to travel them in a rug to stop them getting cold in the lorry or trailer, such as a thermal, wicking rug. If it's wet, a rain sheet or turnout rug will keep them dry.
3. Warm up properly
When it's cold, it can take muscles longer to warm up, so spend a little extra time (at least 10 minutes) on both your and your horse's warm-up routine to ensure muscles are ready for action. This will also help to prevent injury. The cool-down is just as important, especially if your horse gets hot and sweaty. Walk them sufficiently after competing for at least 10 minutes, to help them cool down and prevent them catching a chill or tying up.
Caring for your horse after competing in winter
Our horses work hard for us at shows, so it's important that we take good care of them after their performance. Petplan Equine vet and event rider Juliette Edmonds offers her advice for looking after your horse after competing at a winter show.
'Impaction colic becomes more likely in winter due in part to reduced turnout and the horse eating more dry fibre instead of moist grass, as well as spending less time moving around,' she says. 'Stress induced by travelling and competing could compound this risk, so maximise water intake by feeding wet hay in their stable and during transport, and offering tepid rather than cold water to drink after exercise to encourage drinking. Consider taking hot water in a flask to add to the bucket to take the chill off the water.
'Adding electrolytes to feed will also aid rehydration after exercise, and feeding fibre before exercise and travel will also reduce the risk of gastric ulcers occurring.
'Chilled, tired muscles may be prone to cramping after exercise, so remember to rug after washing off to keep the large back muscles warm while travelling home.'
Do you have any tips for competing in winter? If so, we'd love to find out. Head to our Facebook page and let us know.