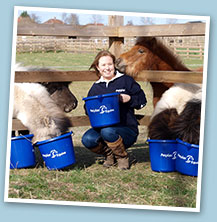 Petplan Charitable Trust
At Petplan Equine we are committed to the health and welfare of all horses and ponies. Not only do we work closely with animal charities and re-homing centres, but we have also founded The Petplan Charitable Trust.
The Petplan Charitable Trust was formed in 1994 to provide much needed help to fund research into treatment for life-threatening diseases, and to promote animal welfare throughout the UK.
Since its inception, The Petplan Charitable Trust has awarded scientific and capital grants totalling over £3 million. In March 2009, the Trust awarded 26 grants totalling just over £85,500 to various institutions across the UK. To date, through the generosity of our donors, the Trust has donated over £5,200,000 in grants.
When you take out a horse or rider insurance policy, you are given the option to make a small annual donation of £1.50 to help fund this work.
Click here to see a few examples of how The Petplan Charitable Trust is helping animals across the UK.
With Petplan Equine and The Petplan Charitable Trust you can help ensure the continued health and welfare of our nation's animals.
For further details on The Petplan Charitable Trust, please visit their site at www.petplantrust.org
Registered Charity No. 1032907