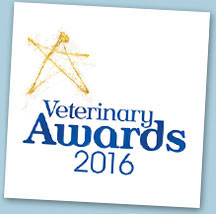 Petplan Veterinary Awards 2016
Celebrating the amazing veterinary profession and what they do for our animals.
Petplan has worked closely with the veterinary profession for over 39 years and sees first-hand the fantastic work that goes on to help our animals. The Awards provide an opportunity for Petplan and horse owners to recognise the hard work and dedication of veterinary staff by saying 'thank you'.
Nominate for an award
You can nominate your vet, the practice receptionist, a vet nurse or your whole practice team for an award. Everyone who is nominated receives a certificate and there will be one winner from each category so nominate today and help Petplan say "thank you".
How are these awards judged?
Nominations are judged by an independent panel of leading people from the veterinary industry including presidents of the veterinary and nursing associations and previous winners of these awards. These judges have first-hand experience of life in practice and are able to use their veterinary expertise to judge who the truly outstanding teams and individuals are. Petplan are not part of the judging panel.
When is the nomination period?
Nominations for the Petplan Veterinary Awards 2016 are now closed.
When are the winners announced?
Three finalists will be selected in each category and invited to attend a prestigious award ceremony on Thursday 7th April where the winners will be announced. The winners will be published on our website on the 8th of April, so don't forget to visit to find out who won!
Tummy trouble for two
Show Jumper Charlotte Edwards had her horses tested for Gastric ulcers after the vet suggested it could contribute towards their quirky behaviour, and was shocked to find both Troy and Stan were suffering. "I've used Chiltern vets for over 10 years and despite the practice now being an hour away due to a house move I won't change. They are so efficient. The vet Sarah Randall says it as it is and I fully trust her judgement on every occasion" comments Charlotte
After treatment and a period of rest both Troy and Stan are back jumping and seem to be enjoying their work a lot more.
Petplan Equine paid £5,035.99 to cover both horses treatment.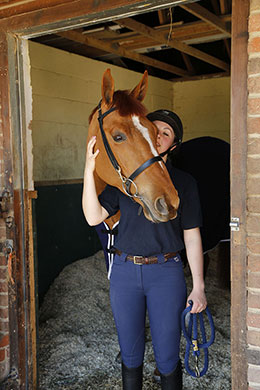 Kiss goodbye to kissing spines
Following an extensive series of tests and treatments, Tico a five year old 18hh British Warmblood, was diagnosed with Kissing Spines. Due to Tico's size and age it was originally thought that he was just immature in his way of going or that possibly he had a slipping patella and the result of the x-rays showing four impinging spinus processes was a real shock. Amy Tilston, Tico's owner and keen dressage rider, agreed to Tico receiving treatment which involved a new, less invasive and cheaper type of surgery following reassurance from her vet. Amy credits her vet's persistence to get Tico back to full health and Petplan Equine's support during this time – he is now competing in dressage and qualified for the Petplan Equine Area Festivals.
Petplan Equine paid: £3,332.00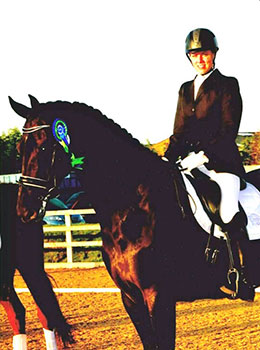 Bonney breathes easy after bleeding lung
Janet, owner of Cleveland Bay x Thoroughbred, Bonney, was horrified to find blood pouring out of Bonnies mouth and both nostrils while they were enjoying a quiet hack. She immediately rang vet Tim Mair whose advice was to walk her home very quietly and that he would make his way to the yard. There Bonney was scoped and it was confirmed that the blood was from a lung rather than the guttural pouch which would have been considerably more serious. Following a short period of rest Bonney made a full recovery and the cause remains a mystery.
Janet commended her vet for keeping her calm at the time and praised his swift and calm response. She has been registered with Bell Equine for over 40 years and cannot praise them enough.
Petplan Equine paid £550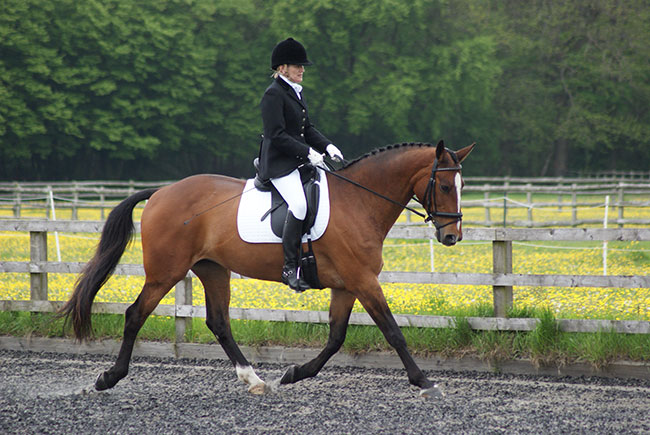 Gate is the unexpected enemy
Spangle, an Arab x Highland mare suffered a severe injury which resulted from getting her leg stuck in a gate whilst being turned out in the field.
Owner, Lorna Hogg's local vet was called and attended immediately to cleanse stitch and staple the wound. She credits her vet's efficiency and ability for there being no need for further stress which may have resulted from having to transport Spangle to the clinic and in particular for returning Spangle to her former self – there have been no further problems. Lorna said "it was so re-assuring to know that the vets were on hand in case of an emergency."
Petplan Equine paid £1,402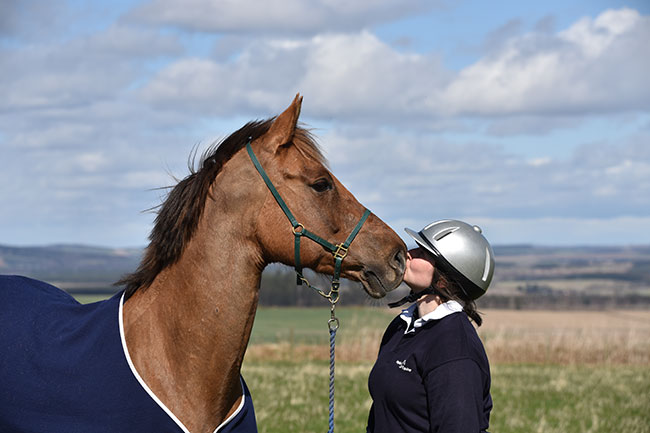 Most common claims:
In 2014 Petplan Equine paid over 10 thousand claims financially supporting owners through difficult and often distressing situations. Claims vary from the most unusual conditions such as behavioural related conditions and atypical myopathy, more commonly known as sycamore poisoning, to those that most horse owners will have heard of. The top 5 most conditions claimed for with Petplan Equine in 2014 are:
Click on each condition for more information and advice.
When to call the vet
All horse owners have been in the situation where they know something isnt quite right, sometimes it's an obvious emergency and other times it is unclear if a vet is needed. Petplan Equine veterinary expert, Gil Riley, has developed a 'listicle' of the top symptoms and what they could mean to help in these situations.
Urgent – call your vet out immediately:
If you spot your horse with any of these symptoms, it is a real emergency so a vet should be consulted immediately.
| | |
| --- | --- |
| Eyes: | If it is involving the eyeball itself this could indicate an ulcer of the cornea or a uveitis, both of which require very prompt veterinary attention. |
| Nasal discharge: | A thick smelly discharge may indicate anything from choke to strangles to sinusitis, all of which would merit a vet visit - the first two would be an emergency! |
| Cough: | If the coughing is severe and/ or your horse is struggling to breathe or if other horses on the yard are displaying these symptoms this would merit an emergency call. |
| Skin: | If other horses are also affected or if the symptoms are suspected to be an infectious condition such as ringworm. It is time to isolate affected horses and call the vet. |
| Loose droppings: | If the horse is already displaying symptoms of being unwell or if the horse is losing weight or worms are visible in the droppings. The vet would need to come as soon as possible. |
| Foot: | If the foot is significantly hot or the horse is severely lame or lame in more than one foot possible emergency causes could include; a deep abscess, a fractured pedal bone or most commonly but no less urgent, laminitis. The vet will need to visit. |
| Swollen legs: | If the horse is significantly lame or has had a foot infection prior to the swollen leg it is possible the infection has travelled up the leg. Lymphangitis is another possible cause of such acute lameness. Both of these condition require urgent veterinary attention due to the level of pain and any delay could greatly impact recovery. |
| Wounds: | If the wound is deep, bleeding, close to a joint, in the sole of the foot or if the wound is resulting in obvious lameness. Even if the wound is small, the vet should be called immediately. |
| Agitated behaviour: | Looking at flank, scraping ground, kicking tummy, sweating, wanting to roll; always an emergency as indicates colic or poisoning |
| Reluctant to move: | Standing square, sweating, pain on palpation of muscle back/hind quarters could indicate painful back injury or rhabdomyolisis (tying up) – a painful condition requiring urgent intravenous pain relief administered by a vet. |
There are many symptoms that often require veterinary attention but in some situations you can treat these yourself with guidance from your vet. Despite most vets offering free advice, only 3% of horse owners that we surveyed, take advantage of this service. So if you notice your horse is suffering from any of these symptoms, give your vet a call to talk through the condition. The vet will let you know if he needs to pay you a visit or if it is something you can manage.
Call for advice:
| | |
| --- | --- |
| Eyes: | If the eyes are generally sore or the horse has possibly had a dust reaction or is suffering from conjunctivitis. |
| Nasal discharge: | A watery serous discharge would generally be the least concerning, a mucous more notable. |
| Cough: | If the cough is occasional and possibly an allergy or reaction to dust. |
| Skin: | If it is suspected to be an allergy or reaction to an irritant in the environment and the skin condition is not excessively itchy. |
| Loose droppings: | If the droppings are loose following dietary changes or recent worming or lack of worming. |
| Foot: | If the horse is not very lame and it is only one foot affected and it is not too hot. |
| Swollen legs: | If there is no or merely superficial evidence of injury and any lameness that is present is mild. |
| Wounds: | If the wounds are superficial and away from any joints and there is only very mild lameness. |
At Petplan Equine we know first-hand how important it is that your horse gets the correct care and attention in the event of him being injured or unwell. The symptoms described above are a few examples but there are many more possibilities and our advice is that if you are unsure about your horse's wellbeing, it is always best to call your vet and talk about the options.