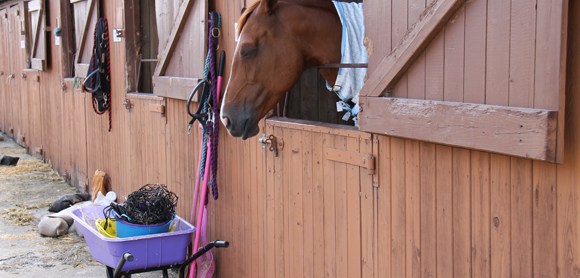 Essential equestrian items: 9 must-haves for every stable yard
We all have things we love and hate about our stable yards. Whether you keep your horse on livery, or have your own stable, improvements can always be made. From affordable equipment upgrades to more substantial additions to your yard, take your pick from our favourites.
Expert contributor: Rachael Barker.
Approved by Gil Riley.
Whether you're looking to save a little time on yard chores, or reassure yourself that your horse is safe when you're not there, investing in helpful stable yard equipment and gadgets can make your life a lot easier.
1.

CCTV camera

Knowing what your horse is up to when you're not there to watch over them in person can bring peace of mind. There are plenty of options available, from solar-powered cameras that use a 4G connection to more basic systems that run off a power supply and connect to the wireless internet at your yard. You can often watch the footage on your mobile phone – which just might become your new favourite evening entertainment.
2.

Haynet-holding frame

Filling haynets isn't for the faint-hearted and can take up a lot of valuable time. Invest in a haynet-holding frame to support the top of the net as you slide in the sections in double-quick time. You can find both freestanding versions and those that need to be screwed into a wall. Either way, they're a great timesaver.
3.

Feeding chart

If you share yard duties with others, or for some reason can't make it to the yard, it's reassuring to know that your horse will be given the correct feed. One suggestion is to place a whiteboard in the feed room, specifying each horse's routine, feeds and any medication or notes. Petplan ambassador Rachael Barker has two boards in her yard: 'I have one for dentist and farrier dates, as well as any important notes. The second board is for feed information and it's colour-coordinated to match my horses' feed buckets, haynets and grooming kits. Each horse has their own colour so there's no crossover.'

For a more high-tech version, use a stable management app to share the same information with everyone on the yard, as well as make notes for individual training plans, reminders for worming schedules and more.
4.

Washing machine

This is Rachael's favourite stable yard gadget. Although it is a luxury, she says it gets used a lot. 'You can get a cheap and cheerful model, especially as there are some great second-hand deals online. I put all my sweaty and dirty saddle pads, boots, coolers and sheets in mine,' she explains. Rachael believes it's important that we keep our kit clean, so our horses stay happy and healthy. What better way to do that than put on a wash while you're out for a hack?
5.

Rubber stable mats

Mucking out isn't top of most equestrians' favourite tasks, but it's got to be done. Rubber stable mats can make the job a lot quicker, as well as significantly reduce the amount of bedding you'll need. A quick scoop and sweep should suffice daily, with a deeper clean using a pressure washer when you have more time. Rubber mats are also slip-resistant and offer a more comfortable surface than concrete.
6.

Two-wheel wheelbarrow

If you've ever watched in horror as your wheelbarrow topples over after adding one pitchfork too many, then you'll know the advantages of a wheelbarrow with two wheels. They're far more stable and usually larger, too, so you'll save time with less runs to and from the muck heap. They're also much easier to push through the mud in winter.
7.

Hay steamer

Many horses suffer from respiratory issues, leading to coughing, wheezing and breathlessness. While some horses may suffer from this all year round, sometimes respiratory issues are made worse during cold winter weather, or triggered by summer pollen. Using a hay steamer can reduce inflammatory airway disease and eliminate dust from your horse's hay.
8.

Leaf blower

We all like a clean yard, but sweeping takes a lot of time. A leaf blower will not only cut down the time it takes to get your yard dust-free, but it's great for cleaning out cobwebs from hard-to-reach corners, too. Just remember to only use them when horses are already out of their stables. The dust that they kick up can cause respiratory issues.
9.

Toolbox

'I like to be prepared, especially as horses like to break things,' says Rachael. 'I keep my toolbox stocked with handy items such as cable ties, spanners, screwdrivers, pliers and a crowbar.' Having a few essential tools on the yard can save time and prevent injury if something does break. Other useful items include a hammer, a selection of nails and screws, electrical tape and, of course, baler twine.

What stable yard gadgets or equipment couldn't you cope without? Share your favourites on our Facebook page and see what other equestrians are talking about!