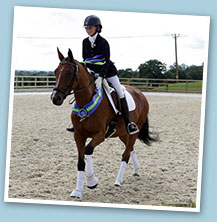 Dressage training with Charlie Hutton
Dressage is one of the most challenging and rewarding horse riding disciplines. Horse and rider partnerships are in complete harmony with each other, with the slightest shift of balance from the rider being enough for the horse to understand exactly what is required. As with any equestrian sport, perfection doesn't come naturally to most of us and is a result of hard work, many hours of training and a complete passion for horses.
At Petplan Equine we have teamed up with Charlie Hutton from the renowned Talland equestrian to produce a series of videos to help dressage riders care for their horses, prevent illness and injury where possible and to help them achieve those extra marks. Take a look at the videos below and don't forget to share this page with your friends.