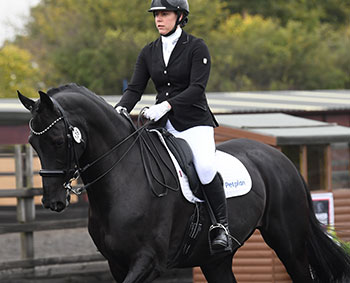 Amy - Petplan Equine Ambassador
Petplan Equine provides peace of mind for my most precious possessions. Tico, my advanced dressage horse, flourished from failure to superstar thanks to the support they provided.
Amy Tilston is from Lancashire and competes in dressage with her two horses Tico and Jasper. Amy's horses are her world and she takes responsible horse ownership to a whole new level.
Tico is an 18.2hh homebred British Warmblood who has had a myriad of problems including Kissing Spines and has been heavily supported by Petplan Equine. Tico tries his heart out despite his difficulties and sheer size. He made his Advanced Medium debut in 2017 and promptly qualified for the Petplan Equine Championships.
Jasper is a 16.1hh sport Friesian with spectacular movement and a happy outlook on life. Amy is very excited about Jasper as he is showing real talent for dressage and is just starting his training for Medium level. Amy has also recently acquired a 3 year-old Fresian Stallion called Yinthe, who she plans to back this year.
Plans for 2018
Practice with Tico for the best results possible in the Medium and Advanced Medium at the Petplan Equine Championships, Hartpury.
Teach Jasper flying changes!
Debut Jasper at Medium and Advanced Medium by end of year.
Qualify Tico for the Petplan Equine Area Festivals at Advanced Medium and Jasper at Medium with the aim of getting both horses through to the Championships.
Qualify Jasper for the Summer Regionals at Elementary.
Back and train new arrival, 3 year-old Friesian Stallion Yinthe.
Ambassador updates 2018
Ambassador updates 2017