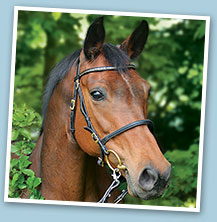 Press room
2011 press releases
Posted: 10/06/11
Advice from Petplan Equine on Buying a horse
Buying a horse is a big decision and it is important that you realise the commitment you are making in terms of time and money. It is also generally a substantial outlay and devoting time and additional funds to finding the right horse and protecting yourself during this process can prove to be a wise investment. We've asked Alison Andrew, Head of Marketing at the UK's leading specialist equine insurance provider, Petplan Equine to highlight areas to be aware of during the purchase process of a horse.
Looking for a horse can be both exciting and somewhat daunting, especially if you've never done it before. To avoid a lot of wasted time you need to have a clear idea of the type of horse you are looking for - size, temperament, age and experience - as well as the price you can afford, for this research is key.
Try and get as much information as possible about the horse from the owner over the phone before committing to a viewing as the information you receive may rule the horse out and save you a wasted journey.
Never buy a horse unseen and always ride the horse yourself before you agree to purchase it. As you may be trying a number of unfamiliar horses during your search it is a good idea to take out 'Rider Only' insurance so that you will be covered in the event of an accident. A Rider Plan policy from Petplan, for example, will provide cover for personal accidents, third party liability, emergency vet fees and riding equipment.
When you do find a horse that you like, don't rush into a decision. Go home and think it over and if possible arrange to ride the horse again. Some owners may be willing to let you take the horse on a week's trial. In this case it is important that you have a clear agreement with the owner drawn up to ensure that you know the extent of your responsibility while the horse is in your care. It may be necessary for you to insure the horse yourself to ensure that you are covered in the event of illness or injury during the trial period.
Before buying, it is important to arrange to have the horse 'vetted'. You should always use your own vet for this, or one recommended by your own vet, and not a vet suggested by the person selling you the horse.
There are two types of pre-purchase examination – a full 5-stage vetting or a more limited 2-stage vetting. If your horse is to be insured for more than £5,000 Petplan Equine requires a 5 stage certificate. If the horse is being insured for more than £2,500 with loss of use, a minimum of a 2 stage certificate is required.
The vet will advise you as to whether he thinks the horse is suitable for the purpose you have in mind. It is then up to you to decide whether you want to go ahead and buy the horse.
Finally, when buying a horse it is advisable to have a purchase agreement drawn up by a lawyer to make sure you are protected should anything go wrong. If your new horse turns out to be a different animal to the way he was described, whether you have a sale contract in place will affect whether or not you have a legal right of recourse.
Further advice on purchase agreements and buying a horse can be found at http://www.yourstables.co.uk.
Further advice on equine insurance, including Rider Only insurance, can be found at www.petplanequine.co.uk
For more information please contact the Petplan press office on:
Petplan Equine is the UK's leading horse insurance provider offering a wide variety of flexible horse insurance and rider insurance policies which cater for all levels of experience.
Established more than 20 years ago, Petplan Equine is part of Allianz Insurance, one of the largest general insurers in the world.
For more information about a Petplan Equine horse insurance policy, please visit:
petplanequine.co.uk/insurance/quote.asp
Note to editors:
The Petplan Equine Census was conducted in spring 2010. An online questionnaire was filled in by over 1700 UK horse owners.
*ONS 2007
Petplan Equine was founded in 1988
It is part of Allianz Animal Health, the largest provider of animal health insurance in the world and part of Allianz – one of the largest general insurers in the UK
In addition to horse and pony insurance options, Petplan Equine provides dedicated products for veteran horses and rider only insurance cover
It is the sister brand of Petplan, the largest provider of small animal insurance in the UK
Petplan Equine believes in supporting the equine community and provides more financial support to equestrian sports and activities than any equine insurance provider in the UK
The Pet Plan Charitable Trust was founded in 1994 to raise much needed funds for animal welfare and veterinary projects. Money is raised by Petplan and Petplan Equine customers giving an optional £1.50 to the Trust when they take out or renew their policy. To date, almost £5 million has been awarded by the Trust
Petplan and Petplan Equine are specialist insurers. As such, the company employs more horse riders and owners than any other and more former veterinary practice staff than any other to ensure the provision of specialist knowledge
Petplan Equine is the only insurer to offer illness and accident cover for older horses, up to the age of 25 as long as the policy is taken before your horse reaches the age of 20.