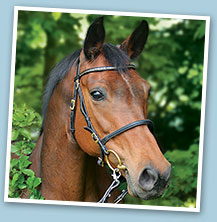 Press room
2009 press releases
Posted: 26/10/09
Are you covered for high-risk winter activities?
With the winter months host to a range of high-risk equestrian activities such as hunting, point-to-pointing and team chasing, it is important that participating riders check that these activities are covered under their current insurance policy.
Leading UK equestrian insurance provider Petplan Equine offers different levels of cover depending on the policy holder's range of activities with their horse. For example, a happy hacker will have a different level of cover to a seasoned eventer. This means Petplan Equine policy holders only pay for the cover that they actually need.
As the activities begin to change it is important that horse owners check with their insurance company to ensure they have the right level of cover and that vet fees and personal accident cover are included before embarking on team chasing or point-to-pointing.
If you have any questions about the level of your cover contact Petplan Equine on
0330 102 1614 or visit www.petplanequine.co.uk
Editors Note:
For further information, please contact Andrea Worrall at The GPC on 01608 654040 or email panda@thegpc.co.uk
For further information on Petplan Equine contact Kate Mallett in the press office on (0208) 580 8194 or email kate.mallett@allianz.co.uk
Petplan Equine was founded in 1988
It is part of Allianz Animal Health, the largest provider of animal health insurance in the world and part of Allianz – one of the largest general insurers in the UK
In addition to horse and pony insurance options, Petplan Equine provides dedicated products for veteran horses and rider only insurance cover
It is the sister brand of Petplan, the largest provider of small animal insurance in the UK
Allianz Animal Health handled more than 375,000 claims in 2006, over 7,200 per week and paid out approximately £2.4 million in claims per week
Petplan Equine believes in supporting the equine community and provides more financial support to equestrian sports and activities than any equine insurance provider in the UK
The Pet Plan Charitable Trust was founded in 1994 to raise much needed funds for animal welfare and veterinary projects. Money is raised by Petplan and Petplan Equine customers giving an optional £1.50 to the Trust when they take out or renew their policy. To date, almost £5 million has been awarded by the Trust
Petplan and Petplan Equine are specialist insurers. As such, the company employs more horse riders and owners than any other and more former veterinary practice staff than any other to ensure the provision of specialist knowledge