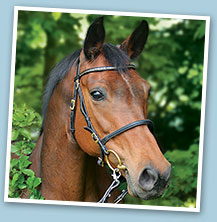 Press room
2011 press releases
Posted: 22/12/11
Carlo is voted Petplan Equine Horse of the Year by BEWA
Beverley Widdowson's outstanding show jumper Carlo, ridden by Nick Skelton, has been voted the Petplan Equine Horse of the Year for 2011 by the British Equestrian Writers' Association (BEWA). Carlo is the first show jumper to win this prestigious award.
The award was announced at the BEWA Awards Lunch, which has been sponsored by Petplan Equine, the UK's leading specialist equine insurance provider, since 2003 and is held during the London International Horse Show at Olympia.
Nick Skelton and Carlo were one of the star combinations of the GB team in 2011, bringing home both team and individual bronze medals from the Senior European Championships and featuring on five FEI Nations Cup teams. Their triple clear round helped to ensure a win for the team in Dublin and their individual achievements included Grand Prix wins in Florida, USA and St Gallen, Switzerland and success in the World Cup qualifier in Washington, USA.
The 10 year old Holsteiner has shown himself to be one of the most talented horses on the international circuit and is clearly held in high regard by his experienced rider.
"I think Carlo is an exceptional horse," said Skelton. "He's fantastically careful and has all the scope. He watches everything but when he goes through the start he's a totally different horse.
"We were lucky to be in the right place at the right time with Big Star and it's the same with Carlo. He has everything."
Beverley Widdowson and her husband Gary have been great supporters of Nick Skelton and sponsor him under their business Kenninghall Holdings.
Isabella Von Mesterhazy, Petplan Equine's Head of Marketing, said: "Petplan Equine is delighted to support the British Equestrian Writers' Association and their award to the outstanding horse of the year. Carlo has had a tremendous season and is still a relatively young horse to be competing at the highest level. We wish him and Nick the very best of luck in 2012."
Carlo is the first show jumper to have been given this award and is in good company with previous winners including:
| | |
| --- | --- |
| Year | Horse |
| 2005 | Over to you |
| 2006 | Toy Town |
| 2007 | Headley Britannia |
| 2008 | Miners Frolic |
| 2009 | Mistral Hojris |
| 2010 | Mistral Hojris |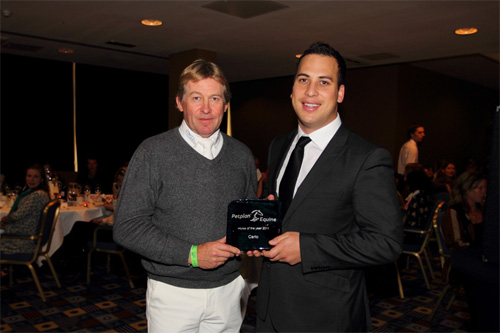 Caption: Nick Skelton receiving the Petplan Horse of the Year Award from Petplan Communications Manager Carl Stephens
For more information please contact the Petplan press office on:
Petplan Equine is the UK's leading horse insurance provider offering a wide variety of flexible horse insurance and rider insurance policies which cater for all levels of experience.
Established more than 20 years ago, Petplan Equine is part of Allianz Insurance, one of the largest general insurers in the world.
For more information about a Petplan Equine horse insurance policy, please visit:
petplanequine.co.uk/insurance/quote.asp
Note to editors:
Petplan Equine was founded in 1988
It is part of Allianz Animal Health, the largest provider of animal health insurance in the world and part of Allianz – one of the largest general insurers in the UK
In addition to horse and pony insurance options, Petplan Equine provides dedicated products for veteran horses and rider only insurance cover
It is the sister brand of Petplan, the largest provider of small animal insurance in the UK
Petplan Equine believes in supporting the equine community and provides more financial support to equestrian sports and activities than any equine insurance provider in the UK
The Pet Plan Charitable Trust was founded in 1994 to raise much needed funds for animal welfare and veterinary projects. Money is raised by Petplan and Petplan Equine customers giving an optional £1.50 to the Trust when they take out or renew their policy. To date, almost £5 million has been awarded by the Trust
Petplan and Petplan Equine are specialist insurers. As such, the company employs more horse riders and owners than any other and more former veterinary practice staff than any other to ensure the provision of specialist knowledge
Petplan Equine is the only insurer to offer illness and accident cover for older horses, up to the age of 25 as long as the policy is taken before your horse reaches the age of 20.