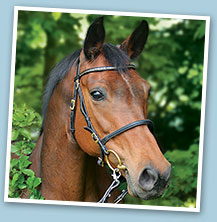 Press room
2009 press releases
Posted: 30/06/09
Petplan aims to get visitors to the CLA Game Fair 'Hooked on Horses'
Petplan, the UK's largest animal insurance provider, will be supporting The CLA Game Fair at Belvoir Castle, Leicestershire from Friday 24th to Sunday 26th July 2009. Petplan is sponsoring the 'Hooked on Horses' area at the event.
In addition to the 'Hooked on Horses' area, Petplan will have a stand at this year's event from which the company will be promoting both its recently launched equine website - www.yourstables.co.uk - and the Petplan National Petrait Gallery - Petplan's attempt to create the largest gallery of animal photos in the world and qualify for the Guinness Book of World Records. There will be a live demonstration of the website, www.petraitgallery.co.uk and a life-sized golden Petrait frame where visitors can have photos taken with their pets.
Visitors to the Petplan stand will also have the opportunity to enter a competition to win a 'rugged' outdoor SLR digital camera, worth £400.
Since its introduction in 2002, the 'Hooked on Horses' area has proved extremely popular with the 150,000 visitors to The CLA Game Fair from all over the UK. Equine enthusiasts and country lovers alike enjoy the demonstrations, features and trade stands in the area, which incorporates a mini show ring hosting live displays and talks on everything from calculating your horse's BMI, to tacking up a heavy horse and how to join the mounted troops within the armed forces.
A wide range of equine exhibitors, including magazines and advice clinics, provide additional entertainment and there are opportunities for visitors to meet a wide array of personalities from the equestrian world and indulge in some serious shopping.
Petplan's Marketing Manager Alison Andrew said: "We are delighted to be supporting the CLA Game Fair as it is such an important event for everyone who loves the countryside, and not just those who depend on it for their livelihoods. The 'Hooked on Horses' element has already captured the imagination of spectators and we look forward to working with the Game Fair to provide visitors to this year's event with a memorable day out."
For further information about the CLA Game Fair, go to www.gamefair.co.uk.
Notes to Editors:
For further information, please contact Andrea Worrall at The GPC on 01608 654040 or email panda@thegpc.co.uk
For further information on Petplan contact Charlotte McIntyre in the press office on (0208) 580 8020 or email charlotte.mcintyre@allianz.co.uk
For more information about horse insurance, please visit: www.petplanequine.co.uk