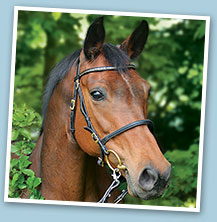 Press room
2011 press releases
Posted: 04/11/11
Dorset vet wins Petplan Equine Vet of the year award
Dorset vet Chris Pearce from the Barn Equine Surgery in Wimborne has won the prestigious annual Petplan Equine Vet of the Year Award [in association with Horse&Rider magazine]. The Award, which has been sponsored for the past four years by the UK's specialist equine insurer Petplan Equine, was announced at the glittering annual Animal Health Trust (AHT) Equestrian Awards' gala dinner, held at the Lancaster London Hotel last night.
Horse owners from all over the UK have been nominating vets who they feel are worthy of the prestigious title of Petplan Equine Vet of the Year. With over 185 nominations the independent judging panel had a difficult job choosing a winner from the three outstanding finalists. However, they unanimously agreed that the strength of Chris's nominations placed him as the vet most worthy of this year's title.
Isabella von Mesterhazy, Petplan Equine's Marketing Manager, commented that the award recognises those vets who go the extra mile in providing an outstanding service to horse owners.
"All this year's nominees have shown great commitment to their profession making choosing just one winner very difficult. However, Chris's dedication and commitment, combined with his extensive work in equine dentistry and the support shown to his clients really stood out."
Horses have always been important in Chris's life. Having ridden since the age of 11, he competed for his country in modern pentathlon as a teenager. After qualifying as a vet at the University of Liverpool in 1990, Chris worked in Worcestershire for three years before moving to Dorset in 1996. In 2001 he became the first veterinary surgeon to qualify as an Equine Dental Technician, an area in which he now specialises.
The judges were particularly impressed with his pioneering work in advancing equine dentistry, which will have a real impact on horses' welfare, comfort and longevity, as well as his understanding of the importance of horses to their owners and the support and empathy he demonstrates when working with their horses.
"I was genuinely surprised and really delighted to have just been nominated", said Chris. On receiving the award, he commented: "As this is a people's award, I would like to thank all the people who have voted for me. I love what I do, I am extremely passionate about it and that's what really drives me. Winning this award is a great way to raise awareness of the importance of veterinary dentistry."
The Animal Health Trust Equestrian Awards are designed to recognise the outstanding achievements made by horses, riders, owners and trainers throughout the equestrian world. Since the Petplan Charitable Trust was founded in 1994 it has raised over £5million, almost £500,000 of which has been donated to the AHT to fund research and development.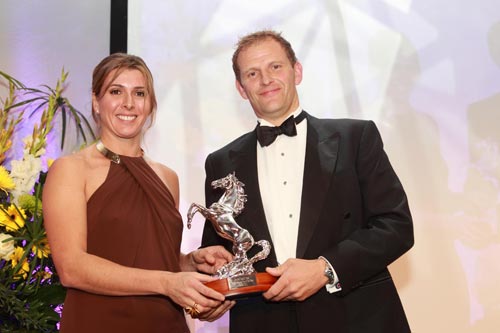 Photo Caption: Petplan Equine Head of Marketing, Isabella von Mesterhazy with Equine Vet of the Year, Chris Pearce.
For more information please contact the Petplan press office on:
Petplan Equine is the UK's leading horse insurance provider offering a wide variety of flexible horse insurance and rider insurance policies which cater for all levels of experience.
Established more than 20 years ago, Petplan Equine is part of Allianz Insurance, one of the largest general insurers in the world.
For more information about a Petplan Equine horse insurance policy, please visit:
petplanequine.co.uk/insurance/quote.asp
Note to editors:
The other finalists were;
Dr Catherine McGowan, BVSc DipVetClinStud MACVSc PhD DEIM DipECEIM FHEA MRCVS from the University of Liverpool. Catherine is described as an outstanding veterinary surgeon with the highest of standards who gives 110 per cent to her career whilst also being a mother of two small children. One client commented, "If there was ever an outstanding equine veterinary surgeon, Catherine McGowan shines above them all."
Ross Syme BSc (Hons), BVM&S, MRCVS from Avondale Veterinary Group in South Lanarkshire. Not only does Ross provide a highly efficient service but at the same time he has a very friendly and caring nature. He is extremely hard working and always puts the care of the horse first, including a recent case where he responded to an emergency call-out at 7am to x-ray a horse and supplied the results by lunchtime. Ross is also compassionate, displaying great empathy, and always goes "beyond the call of duty" to support owners.
About Petplan
Petplan Equine was founded in 1988
It is part of Allianz Animal Health, the largest provider of animal health insurance in the world and part of Allianz – one of the largest general insurers in the UK
In addition to horse and pony insurance options, Petplan Equine provides dedicated products for veteran horses and rider only insurance cover
It is the sister brand of Petplan, the largest provider of small animal insurance in the UK
Petplan Equine believes in supporting the equine community and provides more financial support to equestrian sports and activities than any equine insurance provider in the UK
The Pet Plan Charitable Trust was founded in 1994 to raise much needed funds for animal welfare and veterinary projects. Money is raised by Petplan and Petplan Equine customers giving an optional £1.50 to the Trust when they take out or renew their policy. To date, almost £5 million has been awarded by the Trust
Petplan and Petplan Equine are specialist insurers. As such, the company employs more horse riders and owners than any other and more former veterinary practice staff than any other to ensure the provision of specialist knowledge
Petplan Equine is the only insurer to offer illness and accident cover for older horses, up to the age of 25 as long as the policy is taken before your horse reaches the age of 20.