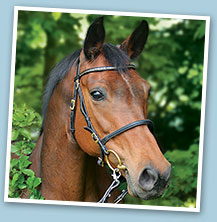 Press room
2010 press releases
Posted: 02/11/10
I'm Dreaming of an Equine Christmas
Thousands of children and even adults across the country are probably wishing that this year's Christmas present arrives in a horsebox instead of a sleigh and, according to new research their wishes may come true.
In a survey of over 1700 horse owners, Petplan Equine the UK's specialist equine insurer found that over 60 per cent were given their horse as a present. However if you think a horse could be top of the Christmas list in your household, Petplan Equine has some useful advice.
Petplan Equine Marketing Manager Alison Andrew commented: "Buying your loved one a horse may make them your number one fan, but if you want the joy to continue after Christmas, it's worth using your head as well as your heart when looking for the ideal horse."
"Our survey found that over nine out of ten respondents expect to keep their horse for the whole of its life so it's an important choice to get right."
Petplan Equine recommends potential buyers keep the following tips in mind when buying a horse:
Don't be tempted to try and make your present a surprise. It is almost impossible to assess whether a horse is suitable for someone unless they have seen and tried it.
Always view a horse prior to purchase and if possible see if it's possible to take the horse home on a trial basis.
Check with the vendor that he or she is insured for you to ride the horse; if not then you might like to take out rider only insurance to cover you in case of a fall while trying an unknown horse.
When arranging to view the horse ask the vendor to leave it in its stable or field so you can see how the horse responds to being caught, tacked up etc.
Take a checklist of things to ask about the horse such as how the horse is in the stable, to catch, clip, shoe, hack alone and in company; whether the horse has any vices or any previous behavioural problems (napping, rearing, bucking) or any history of injury or illness and whether the seller is prepared to disclose the horse's veterinary history.
Have the horse vetted and go to the vetting so that you can discuss the vet's findings as he goes along.
Speak to specialist equine insurers about the policies they provide and what is and isn't included. Check with your insurance company in advance as to what level of vetting they require; this can vary with the value of the horse.
Insist upon having a written purchase agreement, which should fully detail how the horse has been described to you.
Andrew continued: "If you're an equestrian enthusiast, Christmas doesn't get more exciting than a present in the shape of a horse. However, in our experience, it is worth sacrificing the element of surprise in order to find the right horse as a successful partnership is essential to the enjoyment of riding and it's one that will last for a very long time."
For more information please contact the Petplan press office on:
Petplan Equine is the UK's leading horse insurance provider offering a wide variety of flexible horse insurance and rider insurance policies which cater for all levels of experience.
Established more than 20 years ago, Petplan Equine is part of Allianz Insurance, one of the largest general insurers in the world.
For more information about a Petplan Equine horse insurance policy, please visit:
petplanequine.co.uk/insurance/quote.asp
Notes to Editors:
The Petplan Equine Census was conducted in spring 2010. An online questionnaire was filled in by over 1700 Petplan policyholders.
Petplan Equine was founded in 1988
It is part of Allianz Animal Health, the largest provider of animal health insurance in the world and part of Allianz – one of the largest general insurers in the UK
In addition to horse and pony insurance options, Petplan Equine provides dedicated products for veteran horses and rider only insurance cover
It is the sister brand of Petplan, the largest provider of small animal insurance in the UK
Petplan Equine believes in supporting the equine community and provides more financial support to equestrian sports and activities than any equine insurance provider in the UK
The Pet Plan Charitable Trust was founded in 1994 to raise much needed funds for animal welfare and veterinary projects. Money is raised by Petplan and Petplan Equine customers giving an optional £1.50 to the Trust when they take out or renew their policy. To date, almost £5 million has been awarded by the Trust
Petplan and Petplan Equine are specialist insurers. As such, the company employs more horse riders and owners than any other and more former veterinary practice staff than any other to ensure the provision of specialist knowledge