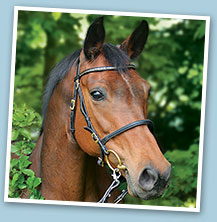 Press room
2011 press releases
Posted: 19/05/11
Intelligent horsemanship; Kelly Marks May Masterclasses
Kelly Marks and her Team are back for her popular May Masterclasses across the South. A natural teacher who generously shares her passion and knowledge with humour, these Masterclasses promise to leave you inspired and equipped with new skills to try with your own horse. There will be appearances from Kelly's own horses, including the celebrity American Pie, and youngster Corky; showing their various stages of training, with ridden demonstrations of how you can increase your riding enjoyment and adventure!
Kelly Marks is protégé of Monty Roberts and trusted teacher of his non-violent methods. She has written three top selling Horsemanship books; Perfect Manners, Perfect Partners and Perfect Confidence and stars on the Horsemanship Essentials series on Horse and Country TV. Kelly's ridden career includes Championships in Racing and Show Jumping and in 2009 Royal Windsor Pro-Am TREC Champion. This wealth of real life experience enables the audience to see how understanding horse psychology can make enormous difference in practical terms.
This fun and informative evening that will suit younger people as well as adults, there will be opportunities for audience participation, and also expert displays and presentations in the Intelligent Horsemanship Shopping Village before the main demonstration.
Watch Kelly work with different local 'problem' horses, and see for yourself just how she works through their various challenges, be it spooking, refusing, fear issues, biting or anything else.
The Kelly marks clinics are to be held as follows:
Friday 27th May 2011 Kingston Maurward College, Dorchester, Dorset DT2 8PY.
Saturday 28th May 2011 Eaglesfield EC West Yoke, Ask, near Sevenoaks, Kent TN15 7HT.
Sunday 29th May 2011 Berkshire College Burchetts Green, near Maidenhead, Berkshire SL6 6QR.
Doors open at 6pm every night with the main demo 7.30pm to 10pm.
Tickets £20 but to PPE members and Intelligent Horse members £15. More details: www.intelligenthorsemanship.co.uk 01488 71300.
For more information please contact the Petplan press office on:
Petplan Equine is the UK's leading horse insurance provider offering a wide variety of flexible horse insurance and rider insurance policies which cater for all levels of experience.
Established more than 20 years ago, Petplan Equine is part of Allianz Insurance, one of the largest general insurers in the world.
For more information about a Petplan Equine horse insurance policy, please visit:
petplanequine.co.uk/insurance/quote.asp
Note to editors:
Petplan Equine was founded in 1988
It is part of Allianz Animal Health, the largest provider of animal health insurance in the world and part of Allianz – one of the largest general insurers in the UK
In addition to horse and pony insurance options, Petplan Equine provides dedicated products for veteran horses and rider only insurance cover
It is the sister brand of Petplan, the largest provider of small animal insurance in the UK
Allianz Animal Health handled more than 375,000 claims in 2006, over 7,200 per week and paid out approximately £2.4 million in claims per week.
Petplan Equine believes in supporting the equine community and provides more financial support to equestrian sports and activities than any equine insurance provider in the UK
The Pet Plan Charitable Trust was founded in 1994 to raise much needed funds for animal welfare and veterinary projects. Money is raised by Petplan and Petplan Equine customers giving an optional £1.50 to the Trust when they take out or renew their policy. To date, almost £5 million has been awarded by the Trust
Petplan and Petplan Equine are specialist insurers. As such, the company employs more horse riders and owners than any other and more former veterinary practice staff than any other to ensure the provision of specialist knowledge
Petplan Equine is the only insurer to offer illness and accident cover for older horses, up to the age of 25 as long as the policy is taken before your horse reaches the age of 20.