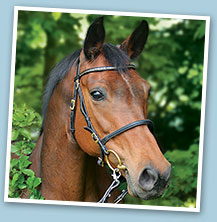 Press room
2008-2003 press releases
Posted: 08/10/03
Petplan Equine Intro Championship Winner Announced
Samantha Fish and her 8 year old stallion Saffier have won the Petplan Equine Intro Championships at Charlton Park, Gloucestershire at the weekend.
'Intro' eventing was introduced in 1999 to give less experienced riders a 'first step' on the eventing ladder. The 2003 classes have proved a great success with many horse and rider combinations taking part in the qualifiers.
Intro events are open to British Eventing full members and horses or those holding a "Day Ticket" whose horses have not won any points.
Samantha Fish said "I am absolutely delighted with Saffier's win. I only took him on in May this year and it is his first Intro series so I am delighted that it's worked out so well. The Intro Championship have been an excellent building block and we are aiming for our first pre-novice event early next year and finger's crossed a 1* event at the end of next year".
Fiona Pinkney, Communications Manager for Petplan Equine said "The intro series is aimed at promoting eventing to all standards of riders but especially those attempting their first affiliated competition. Petplan Equine is delighted to have supported the 2003 series and demonstrates our commitment to the grass roots rider."
For further information on the Intro Championships contact British Eventing on 02479 698856.
- ENDS -
Notes to editors:
Petplan is the largest provider of animal health insurance in the UK, providing cover for more than 1/2 million dogs, cats and rabbits. It was launched in 1976 and is now owned by Allianz insurance, one of the UK's largest general insurers.
Petplan Equine is one of the leading providers of equine insurance in the UK, offering piece of mind to a growing number of horse and pony owners.
Petplan Equine gives more to equine sports and welfare projects than any other insurer. In 2003 the company has sponsored the Blenheim Petplan International Horse Trials, the British Eventing Intro Championships, the British Dressage Area Finals as well as the new All-Weather Arena at the Wales and West Showground.
Petplan Equine continues its support of 6 times Badminton Winner Lucinda Green and her "Learning the Safe Way" cross country clinics.
For further information please contact:
Petplan Equine Press Office
Tel:- 0208 580 8194 or Email: pressoffice@petplan.co.uk