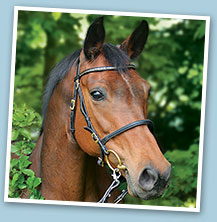 Press room
2011 press releases
Posted: 16/06/11
Last chance to Nominate your Champion Vet
Calling all horse owners and riders – this is your last chance to nominate your trusted vet for the prestigious Petplan Equine Vet of the Year Award 2011.
Working with equine vets for over 20 years, Petplan Equine understands the important role vets play in supporting the long-term health and wellbeing of a horse.
The award, which has been running since 2008, was developed to give horse owners an opportunity to celebrate their vet and also collectively recognise the achievement of vets across the country.
Neil Brettell, Director of Petplan Equine, commented: "Vets play such an important role in the day-to-day care of a horse. They are the first people horse owners turn, whether it is for specific medical attention or simply advice and support. These awards give owners the opportunity to publicly thank those vets who deliver a truly excellent service."
So, if your vet goes above and beyond the call of duty this is your chance to nominate them to see their dedication and commitment publicly recognised.
Nominations for this year's Petplan Equine Vet of the Year Award can be made online by visiting www.petplanequine.co.uk/vetawards. Nominations close on 5th August 2011.
The winner will be decided by an independent specialist panel made up of David Stickels, Head of Fundraising at the Animal Health Trust; Deidre Carson, President of the British Equine Veterinary Association; Gil Riley, Petplan Equine Vet of the Year 2009; and Alison Bridge, Editor of Horse & Rider Magazine.
The 2011 Petplan Equine Vet of the Year will be announced at the prestigious Animal Health Trust UK Equestrian Awards in London, on Thursday 3rd November, 2011.
For more information please contact the Petplan press office on:
Petplan Equine is the UK's leading horse insurance provider offering a wide variety of flexible horse insurance and rider insurance policies which cater for all levels of experience.
Established more than 20 years ago, Petplan Equine is part of Allianz Insurance, one of the largest general insurers in the world.
For more information about a Petplan Equine horse insurance policy, please visit:
petplanequine.co.uk/insurance/quote.asp
Note to editors:
Petplan Equine was founded in 1988
It is part of Allianz Animal Health, the largest provider of animal health insurance in the world and part of Allianz – one of the largest general insurers in the UK
In addition to horse and pony insurance options, Petplan Equine provides dedicated products for veteran horses and rider only insurance cover
It is the sister brand of Petplan, the largest provider of small animal insurance in the UK
Allianz Animal Health handled more than 375,000 claims in 2006, over 7,200 per week and paid out approximately £2.4 million in claims per week.
Petplan Equine believes in supporting the equine community and provides more financial support to equestrian sports and activities than any equine insurance provider in the UK
The Pet Plan Charitable Trust was founded in 1994 to raise much needed funds for animal welfare and veterinary projects. Money is raised by Petplan and Petplan Equine customers giving an optional £1.50 to the Trust when they take out or renew their policy. To date, almost £5 million has been awarded by the Trust
Petplan and Petplan Equine are specialist insurers. As such, the company employs more horse riders and owners than any other and more former veterinary practice staff than any other to ensure the provision of specialist knowledge
Petplan Equine is the only insurer to offer illness and accident cover for older horses, up to the age of 25 as long as the policy is taken before your horse reaches the age of 20.