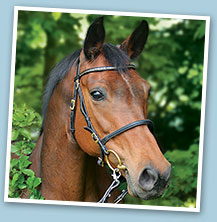 Press room
2011 press releases
Posted: 12/01/11
Love and Marriage not like Horse and Carriage
According to a survey conducted by Petplan Equine, the UK's equine insurance specialist, many people will have a longer-term relationship with their horse than their partner.
Over 90 per cent of horse owners interviewed expected to own their horse for the rest of its life. However with the national average for divorce now taking place after just 11.5 years of marriage*, it looks like commitment to a horse, rather than a partner, may last longer for some.
However, with such a long stretch of commitment ahead, it is a good idea to ensure that your horse is always in good health to help guarantee a longer lasting relationship. Like with humans, as horses get older, in their late teens and twenties, they will need a little extra TLC to help stay fit and healthy.
Recognising the commitment horse owners make to their horses, Petplan Equine has put together the following tips to help you keep your horse in good shape as you both grow older together.
Have your horse regularly checked over by a qualified vet.
Check their teeth at least twice a year.
Watch out for signs of the horse having problems eating.
Make sure they are always warm, whether inside and sheltered or outside riding.
Ensure all vaccinations and wormers up to date.
Watch out for any general signs of discomfort, such as pinned ears, tense muscles or grinding teeth.
Be extra vigilant about keeping rugs; ensure that they are waterproof and kept in good condition.
Make sure that there is a field shelter available for your horse, and it is warm and dry.
Alison Andrew, Marketing Manager, Petplan Equine, commented:
"Like humans, horses are living longer thanks to better care and medicine, and are increasingly being seen as part of the family. At Petplan Equine we believe horse owners should still be able to get insurance cover for veterinary fees as their horses' age so that they can continue to provide their animals with the appropriate level of care and comfort."
Petplan Equine is the only specialist insurer to offer illness and accident cover for older horses, up to the age of 25 as long as the policy is taken before your horse reaches the age of 20.
For more information please contact the Petplan press office on:
Petplan Equine is the UK's leading horse insurance provider offering a wide variety of flexible horse insurance and rider insurance policies which cater for all levels of experience.
Established more than 20 years ago, Petplan Equine is part of Allianz Insurance, one of the largest general insurers in the world.
For more information about a Petplan Equine horse insurance policy, please visit:
petplanequine.co.uk/insurance/quote.asp
Note to editors:
The Petplan Equine Census was conducted in spring 2010. An online questionnaire was filled in by over 1700 UK horse owners.
*ONS 2007
About Petplan Equine:
Petplan Equine was founded in 1988
It is part of Allianz Animal Health, the largest provider of animal health insurance in the world and part of Allianz – one of the largest general insurers in the UK.
In addition to horse and pony insurance options, Petplan Equine provides dedicated products for veteran horses and rider only insurance cover.
It is the sister brand of Petplan, the largest provider of small animal insurance in the UK.
Petplan Equine believes in supporting the equine community and provides more financial support to equestrian sports and activities than any equine insurance provider in the UK.
The Pet Plan Charitable Trust was founded in 1994 to raise much needed funds for animal welfare and veterinary projects. Money is raised by Petplan and Petplan Equine customers giving an optional £1.50 to the Trust when they take out or renew their policy. To date, almost £5 million has been awarded by the Trust.
Petplan and Petplan Equine are specialist insurers. As such, the company employs more horse riders and owners than any other and more former veterinary practice staff than any other to ensure the provision of specialist knowledge.
Petplan Equine is the only insurer to offer illness and accident cover for older horses, up to the age of 25 as long as the policy is taken before your horse reaches the age of 20.