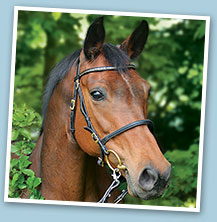 Press room
2011 press releases
Posted: 11/04/11
Nominations open for the 2011 Petplan Equine Vet of the Year Award

Petplan Equine, the UK's specialist equine insurer, is calling for nominations from horse owners across the country, for this year's prestigious Petplan Equine Vet of the Year Award, in association with Horse & Rider.
This award was created by Petplan Equine to recognise the dedicated and skilled work carried out every day by equine vets. This is the perfect opportunity for horse owners to publicly acclaim their vet for the care that they provide their horses and the support they give to the owners.
The Petplan Equine Vet of the Year Award, now in its fourth year, reflects both Petplan Equine's support for the veterinary profession and the huge contribution made by local vets to the equine community.
The current title holder of the prestigious 'Petplan Equine Vet of the Year' is Worcester vet, David Denny, who has run his own general veterinary practice for over 40 years and prides himself on having a small personal practice. After receiving his award last year David Denny commented: "I have always enjoyed my job and it is lovely to be appreciated by clients. For me, being a vet is a way of life rather than just a business – it is hard work but very enjoyable."
The standard was extremely high in 2010 with over 200 vets nominated. Despite the quantity and quality of the competition, David's years of experience in carrying out diagnoses and his commitment to always putting the welfare of the horse first especially impressed the judges. Such is David's commitment to his job that he even treated a horse on the day of his daughter's wedding, making him a deserving winner of last year's award.
Make a nomination today by visiting www.petplanequine.co.uk/vetaward – nominations close on 5th August 2011. The winner will be decided by an independent specialist panel and will be announced at the prestigious Animal Health Trust UK Equestrian Awards in London, on Thursday 3rd November, 2011.
For more information please contact the Petplan press office on:
Petplan Equine is the UK's leading horse insurance provider offering a wide variety of flexible horse insurance and rider insurance policies which cater for all levels of experience.
Established more than 20 years ago, Petplan Equine is part of Allianz Insurance, one of the largest general insurers in the world.
For more information about a Petplan Equine horse insurance policy, please visit:
petplanequine.co.uk/insurance/quote.asp
Note to editors:
Petplan Equine was founded in 1988.
It is part of Allianz Animal Health, the largest provider of animal health insurance in the world and part of Allianz – one of the largest general insurers in the UK.
In addition to horse and pony insurance options, Petplan Equine provides dedicated products for veteran horses and rider only insurance cover.
It is the sister brand of Petplan, the largest provider of small animal insurance in the UK.
Allianz Animal Health handled more than 375,000 claims in 2006, over 7,200 per week and paid out approximately £2.4 million in claims per week.
Petplan Equine believes in supporting the equine community and provides more financial support to equestrian sports and activities than any equine insurance provider in the UK.
Sponsorships for 2007 include the Petplan Equine National Riding Festival, BSJA Senior Newcomers, the British Dressage Area festivals, Lucinda Green "Cross Country the Safe Way" clinics.
The Pet Plan Charitable Trust was founded in 1994 to raise much needed funds for animal welfare and veterinary projects. Money is raised by Petplan and Petplan Equine customers giving an optional £1.50 to the Trust when they take out or renew their policy. To date, almost £5 million has been awarded by the Trust.
Petplan and Petplan Equine are specialist insurers. As such, the company employs more horse riders and owners than any other and more former veterinary practice staff than any other to ensure the provision of specialist knowledge.
Petplan Equine has produced a Horse Handbook, a useful guide for horse owners or those thinking about owning a horse to help them with everything from feeding to travel.