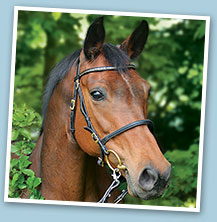 Press room
2011 press releases
Posted: 15/07/11
Petplan Equine Insurance
As the UK still lingers in the grip of a recession, saving money is still an important consideration. Insurance should never be considered a luxury, but it is still important to find out if you are getting the best deal from your insurance company. Neil Brettell, Director of Petplan Equine, the UK's specialist equine insurer, explains how to make sure that your insurance policy is cost effective.
When people look at ways to save money it is tempting to think that payments to insurance companies for cover, that may have never been used in the past, as an unnecessary expense. However, even the healthiest horse can fall victim to illness or injury at any time, and the costs for treatment can quickly mount up. Owning any animal brings responsibility and every horse owner wants to know that they can give their animal the best care possible.
When a horse shows signs of illness or injury, it is vital to call a vet as soon as symptoms are spotted. Many conditions can be easily treated if caught in the early stages, but can become more serious if a vet is not consulted immediately. Research has shown that the biggest concern for horse owners is being faced with a large veterinary bill and no insurance to cover it. Therefore it is important to ensure that you have adequate insurance in place to allow your horse to be treated quickly and professionally to provide you with not only peace of mind but also financial security.
Having insurance is part of responsible ownership, so it is important to shop around when you are looking for the right policy. Look for a provider with specialist experience who understands the equestrian industry, companies who specialise in equine insurance will be able to help you in assessing the type of cover that you need and handling any claims that you make effectively and quickly.
Petplan Equine has over 20 years' of experience in equine insurance and we understand that, just as there are different types of horses, there are different types of activities associated with them, and there should be different levels of insurance to reflect this so that customers only pay for the cover they need.
Insurance costs are based on risk assessment, and just as the risks associated with different types of activity can vary so should insurance cover for different activities. A specialist equine insurer should understand the different equestrian disciplines and their associated risks and they should be able to provide a policy that reflects the type of horse you are insuring and the activity for which you want to insure it.
At Petplan Equine we offer seven different levels of cover depending on what a customer intends to do with their horse. A horse that is only going to be used for hacking is going to be exposed to a lower risk of injury than a point-to-pointer and this should be reflected in the costs of the insurance policy. By only taking out the cover you need will make your insurance more cost effective, however it is important to remember to upgrade your policy to a higher or lower activity level, if you decide to do more or less with your horse.
Age is also a factor affecting the cost of a policy, so it is worth checking whether or not your insurance provider has restrictions for older horses. Petplan Equine will provide cover for both illness and injury up to the age of 25 for a horse providing the horse is insured with us before it reaches the age of 20.
Insurance is like a safety net - there if you need it, so if you do need to make a claim then you want support from advisers who will treat you with empathy and understanding.
When you are choosing an insurance provider ask about its claims record. What percentage of claims do they pay out on and how quickly? Will the insurance company pay the vet directly? If you are expected to pay for the treatment yourself and then make a claim, how quickly will you be paid back?
It's important to remember that horse insurance is all about preparing you for the unexpected so if the worst does happen you know you'll be covered, so it's worth finding a company that specialises in horses and you know you can trust.
A Case in Point
Victoria Allin had successfully competed with her 12 year old Selle Francais mare Frenchie in unaffiliated show jumping classes and hunter trials and was planning to start affiliated eventing. However, in July 2010 Victoria noticed that Frenchie was lame in her off-hind leg after jumping and immediately called the vet.
The mare was referred to an equine hospital for tests, including a bone scan, and diagnosed with a hind suspensory ligament injury and arthritis in her hock, requiring both surgery and on-going veterinary treatment.
"When I got my horse the first thing I did was insure her fully as I knew that should anything happen, the treatment and medication would be covered", said 20 year old student Victoria. "I insured with Petplan Equine based on a recommendation and over the three years I've had Frenchie, the amount I have paid out on insurance has come nowhere near what Petplan Equine has paid out for me in the last six months so it was definitely the right decision.
"Petplan Equine paid out for all diagnostics, the suspensory and on-going arthritis treatment, which to date has cost over £5,300. They arranged to pay the vet direct and settled the claim within the week. All I had to pay was £750 in excess, plus transport costs, which was considerably more manageable than the cost of treatment."
For further information about Petplan Equine visit www.petplanequine.co.uk or call 0330 102 1658
For more information please contact the Petplan press office on:
Note to editors:
The Petplan Equine Census was conducted in spring 2010. An online questionnaire was filled in by over 1700 UK horse owners.
*ONS 2007
Petplan Equine was founded in 1988
It is part of Allianz Animal Health, the largest provider of animal health insurance in the world and part of Allianz – one of the largest general insurers in the UK
In addition to horse and pony insurance options, Petplan Equine provides dedicated products for veteran horses and rider only insurance cover
It is the sister brand of Petplan, the largest provider of small animal insurance in the UK
Petplan Equine believes in supporting the equine community and provides more financial support to equestrian sports and activities than any equine insurance provider in the UK
The Pet Plan Charitable Trust was founded in 1994 to raise much needed funds for animal welfare and veterinary projects. Money is raised by Petplan and Petplan Equine customers giving an optional £1.50 to the Trust when they take out or renew their policy. To date, almost £5 million has been awarded by the Trust
Petplan and Petplan Equine are specialist insurers. As such, the company employs more horse riders and owners than any other and more former veterinary practice staff than any other to ensure the provision of specialist knowledge
Petplan Equine is the only insurer to offer illness and accident cover for older horses, up to the age of 25 as long as the policy is taken before your horse reaches the age of 20.