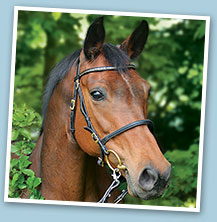 Press room
2008-2003 press releases
Posted: 26/08/08
Petplan Equine Vet of the Year Award 2008
The invaluable work done by equestrian vets in the UK is to be recognised with a new award sponsored by leading equine insurance provider Petplan Equine at the Animal Health Trust Awards in November. The 'Petplan Equine Vet of the Year' award people's vote will reflect the huge contribution made by vets to the equine community.
Owners and riders will be able to nominate their equine vet for the award if they feel that they are deserving of the recognition that this accolade would bring. Veterinary practice personnel are also encouraged to nominate a colleague who they feel has gone beyond the call of duty. Leaflets have been sent to practices across the UK outlining how to nominate and people can also register through the Petplan Equine website www.petplanequine.co.uk. A short list will be drawn up from the nominations received and an independent panel will decide the winner, who will receive his or her award at the Animal Health Trust Equestrian Awards in London on November 6th 2008.
This year marks the 20th anniversary of the Animal Health Trust Equestrian Awards, which recognise the outstanding achievements made by horses, riders, owners and trainers throughout the equestrian world. This milestone coincides with Petplan Equine's 20th anniversary and, since 1994 when the Petplan Equine Charitable Trust was founded, it has raised over £5 million, almost £500,000 of which has been donated to the AHT to fund research and development.
Jo Whitaker of Petplan Equine says: "It has been a privilege to be involved with the AHT Awards over the years and we look forward to this exciting 20th anniversary year. Petplan Equine has sponsored the Eventing Award for the past three years but this new award will recognise the commitment and hard work of people within the equine veterinary profession and the service they provide to horse owners. Horse welfare is paramount at Petplan Equine and we are committed to promoting responsible horse ownership, through our wide range of policies, our charitable contributions and our Horse Handbook. This award will give the equine community the opportunity to acknowledge and celebrate the vet who has made the most outstanding contribution to the care of horses."
To nominate go to www.petplanequine.co.uk. The closing date for nomination is 3rd October 2008.