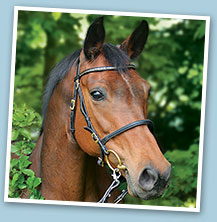 Press room
2008-2003 press releases
Posted: 23/06/05
PETPLAN to re-focus marketing activity after Europeans
After seven highly successful years, Petplan has announced that 2005 will be the last year of its title sponsorship at the Blenheim International Horse Trials.
Petplan's communications manager Fiona Pinkney said: "It's been a very difficult decision, but we have decided to finish on a high with the European Championships being held at Blenheim this year [September 8-11]." Fiona continued: "We have seen the event grow in stature since we arrived in 1999 and the sponsorship has been extremely successful for us.
We now feel that the right time to move on is after the European Championships ; we will be re-focusing our marketing activity across a range of initiatives confirming Petplan and Petplan Equine as the caring brands who put the animals first. "Petplan remains totally committed to supporting the European Championships and we have an action-packed programme of support and activities lined up for the four days. We shall be there in full force, cheering on the British team in their quest to bring home a sixth consecutive team gold medal."
Event director Mike Etherington-Smith said: "We shall be very sorry to say goodbye to Petplan. They've been fantastic enthusiastic sponsors who have shown total commitment to promoting and enhancing the event for seven years. However, we quite understand that all sponsorships have to end sometime and 2006 will be an appropriate year for new beginnings." Peter Durrant, British Eventing's chief executive, commented: "Petplan's involvement with Blenheim - seeing it through to Championship status - has been one of our greatest success stories in sponsorship. Both Blenheim and the sport have enjoyed a tremendous relationship with Petplan, which I hope will continue in some way for years to come."
Petplan, the largest pet insurance provider, has for many years been committed to supporting grass roots riders and the equine community, as demonstrated by its current sponsorships of the British Dressage Area festivals, the All Weather Arena at the David Broome Event Centre, Lucinda Green's Learning the Safe Way clinics and the Animal Health Trust Eventing Award. Notes to editors: For further information on the FEI Blenheim Petplan European Eventing Championships, which take place September 8-11, please telephone: 01993 813335 or email: info@blenheim-horse.co.uk. To book advance tickets at discount prices, telephone the Box Office: 0870 609 8012 or visit the website: www.blenheim-horse.co.uk. For further media information on Petplan Equine, please call Petplan Equine Press Office on: 0208 580 8194.